About
In 1976 after backpacking through Europe and America, visiting London, Paris and New York, I decided to study Fine Art and make art my career. In 1979 I completed a TOP Art course at Frankston TAFE, and gained entry to Prahran CAE, completing a Diploma of Art and Design (Painting), in 1982   In 1984 I completed a Graduate Dip of Education and worked as an art teacher at Hamilton Technical School Victoria , for the next four years.  I then travelled through SA, WA and arrived in the NT and lived and taught in Darwin for ten years as part of Sanderson High School's Art Dept. On returning to Queensland I set about undertaking a number of professional development short courses including Marketing your Art and joined a number of Art Associations and began exhibiting my work on a regular basis. I have had over eight solo shows and participated in over seventy group shows. In 2016 I got a commission from iAM Art Consultants to paint 10 paintings for the new Sunshine Coast University Hospital and in March 2017 I joined Bluethumb. I have built my own studio and in 2017 and 2018 I have taken part in the Noosa Open Studios weekend. Fiona Groom came in and shared my studio in 2018. . In January 2018 I was commissioned to complete an art work for the Sunshine Coast Council, which now hangs in the mayor's office.
I am now working towards a solo show called Twisted Tales which opens on the 1st - 23 December at the Cooroy Butter Factory.
Education
Grad Dip Education GIAE Vic 1984
Dip of Art and Design ( Painting) Prahran CAE 1982
Exhibitions
I have had eight solo shows and participated in over seventy group exhibitions and competitions across NSW, NT, Qld, SA and Victoria. I was invited to be part of an undiscovered artist show at Martin Galleries in Nundah and sold four works before the show was hung. Since then I have shown my work at Greenhill Galleries in Adelaide, C Gallery in Fortitude Valley, Noosa Regional Gallery, Brunswick Street Gallery in Melb, Three White Rooms in Paddington Bris, Tweed River Gallery, State Library of Qld, Parliament House in Brisbane and joined bluethumb in March 2017. I have also been a part of Noosa Open Studios for the past two years and we had over 200 visitors through my studio, which I shared with Fiona Groom. I am now painting frantically to complete at least 20 new pieces for a show called Twisted Tales which is based on modern fairy tales and opens on the 1st December at the Cooroy Butter Factory.
Press
Eumundi Green July 2018, Noosa Open Studios Guide 2018, Noosa News July 2018, Art After Dark, Australian Artist Magazine Aug 2017, Noosa Open Studios article.Noosa Independent April 2014 Solo Gallery Dale LeachArt Guide Jan/Feb 2012 Pg 169 Caressing the TigerThe Sunday Mail, Event Arts Section, article On the Right Path by Ronnie Girdham Pg. 14 June 28th 2009
Seven News- Cat Art 9 Jan 2012
Influences
I am currently working on a new body of work for a show called Twisted Tales which opens in 58 days at the Cooroy Butter Factory. Twisted Tales shows it's Pop Art roots and is based on Nursery Rhymes, Fables and general literary mischief and is influenced by artists such as Rose Wylie, Kelly Puisseger, and the wonderful mixed media work of Elke Trittel. Over the years I have developed a distinctive graphic style and I believe the new work builds on that, with a few new tricks in my tool kit, that enhances my rather singular, rebelliously idiosyncratic view of my world.
artist
Karen F.
1 day ago
collector
Lorraine C.
6 days ago
artist
Laurie C.
8 days ago
artist
Pip P.
8 days ago
artist
Katherine A.
12 days ago
artist
Carolyn D.
10 days ago
collector
Philippa B.
3 days ago
artist
Mellissa R.
2 days ago
collector
Carolyn R.
6 days ago
artist
Irina R.
1 day ago
artist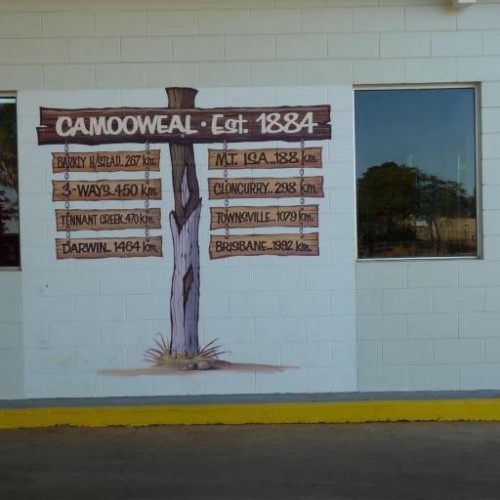 Virginia M.
4 days ago
collector
Tina K.
12 days ago
Previous
Previous