About
Experimenting with a new modern form of 3D back painting.
Special thanks to Harris Andreson of UK Custom Essays for the following comment:
"Modern art is moving towards 3D painting and this has also changed the whole scenario of modern painting which looks pretty amazing if you see the pictures, it reflects a golden touch of modern art with beauty of mixing colors."
A history of working in many places across the world to enable the raising of my family that has always included a keen design application and passion to the where there is a very real need to expand in experimenting design of art items that have a target of 3D characteristics.
After first sketching the idea, then determining the separation stages and layers as desired, then placed onto the rear of each layer for painting.

Techniques of choice includes using all pen illustration, injection, brush, spray, flood and palette knife on rear of clear surfaces including the modification of surface finish prior to hand painting through the initial application of hand illustration, then developing the ability to apply the finishing stroke first through to the background layer last, in reverse hand painting.
Top Categories
Education
Studied Civil Engineering, F.I.T.
Significant work with machinery and production process design
Exhibitions
Camberwell Art Show
Bayside Art Show
Press
I have my own opinions, NOT those pushed by bluethumb
.
Influences
Many of the expressionist/cubist/abstract masters and also the range of colourful advertising poster masters
collector
Kath P.
6 days ago
artist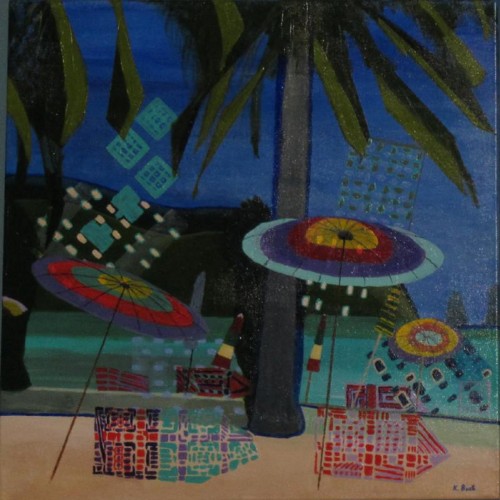 Kathy B.
11 days ago
artist
Tim G.
11 days ago
collector
Rebecca F.
8 days ago
artist
Julie S.
12 days ago
artist
Tracey B.
7 days ago
artist
Natasha J.
8 days ago
artist
Stuart E.
13 hours ago
collector
Andrea D.
8 days ago
artist
Christine S.
10 days ago
artist
Daniele L.
10 days ago
artist
Margaret (.
7 days ago
Previous
Previous