About
Grew up in Perth after emigrating to Australia at aged 9. Studied classical music, the violin, and worked as an opera and ballet orchestral violinist as a young person in the mind 1970s onwards, whilst at university studying music, anthropology, psychology, then moving onto playing in symphony orchestras in Australia. Took time off to go to art school in Perth in the late 1970s....for a thinking and artistically inspiring time. It was a wonderful year of art, colours, paintings and drawings and so on. Inspired me for life....with joy, love and wonder. Returned to painting time and again over the years, the latest bout was taking a year's break to paint in 2015. Am resuming painting in 2017 onwards.....and lately seriously loving the paintings and artworks of Sara Carena, Kerry T., Sun Park and Paddy Colahan, whose works can be found in Bluethumb website.
Education
University of Western Australia,
Claremont Tech Art School,
Tasmanian Conservatorium of Music,
HDK Berlin,
TU Berlin.
Exhibitions
One exhibition in Melbourne many years ago....over 15 years ago....at Smith Street Gallery, Collingwood, Vic, many of my paintings of which are now stored in the basement of the National Gallery of Victoria in Melbourne.
Press
Go To my Facebook site at: www.facebook.com/anitapunyanitya for much more stuff to do with TOTALLY FIXING Climate Change problems and getting the Polar Icecaps back within the next 3 years.
Influences
Influenced by real artist painter friends in Perth as a young person, also artist George Haynes, French Impressionist Monet, and some contemporary Australian painters, as well as the famous New Yorker Mark Rothko.
artist
Donna W.
about 1 month
artist
Julz R.
26 days ago
artist
Pamela B.
27 days ago
collector
Anna A.
about 1 month
artist
Patricia G.
about 1 month
artist
Debra B.
about 1 month
artist
HSIN L.
about 2 months
artist
Susannah P.
29 days ago
collector
Morgan L.
26 days ago
artist
Pauline J.
about 1 month
artist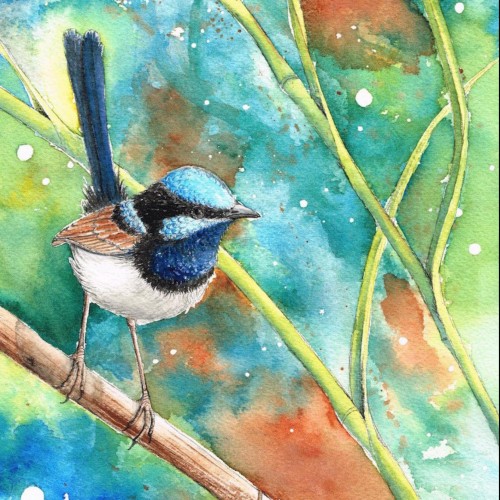 Rebecca P.
about 1 month
artist
Marnie
about 1 month
Previous
Previous