Semi-finalist
About
My art work is essentially landscapes with moments of irregularity that occur within my random process. Chance, improvisation and intuition play a role in each finished painting.
I embrace the poetry of life and the land while bringing in that intrinsic metaphorical light which is linked to the spiritual. Each work evolves of its own accord as meaning; spirit and paint combine.
I have been painting and exhibiting for the last 38 years and have art works in many galleries, corporations and people's living spaces all around the world. Some of these include, Madang (PNG) Singapore, London, Canada, Bali, Germany, Norway, Australia and USA.
Education
AUSTRALIAN ACADEMIC QUALIFICATIONS
 4 Year Dip. of Art – RMIT Vic. - Diploma of Education – Teachers College Melb. Vic.
 Bachelor of Art Education – Edith Cowan University WA - Masters of Art and Performance Art – Charles
Sturt University NSW
Exhibitions
SELECTED EXHIBITIONS
2016 Gallery ADA Shanghai (landscapes) – Didier Fine Art Foundation Jakarta – (Conversations with Nature) 2015 HOLLANDAISE CLUB Singapore – September (Multi-focus) 2015 JAHROC GALLERY -– Margaret River WA Aust. Landscape Poetry) 2013 JAHROC GALLERY – Margaret River Perth WA 2013 RED SEA GALLERY BRISBANE – QLD. Aust.(New works) 2012 GADFLY GALLERY – Perth WA - Transitions – (Landscape) 2011 ATRIUM GALLERY– Australian High Commission Singapore 2011 JAHROC GALLERY - Margaret River WA Aust (LANDSCAPES) 2009 JAHROC GALLERY - Margaret River WA Aust(LANDSCAPES) 2008 GADFLY GALLERY - WA ( Landscapes Ploughed and wild) 2008 MLC GALLERY – SYDNEY Aust (Landscapes - track and field) 2006 JAHROC GALLERY- Margaret River WA Aust–( Landscapes) 2005 ARTISTRY / ANNEX GALLERY – Melb.Vic Aust – ( Landscapes) 2005 JAHROC GALLERY– Margaret River WA Aust. – ( Landscapes) 2003 GADFLY GALLERY– Drifting in a sea of Dreams –Perth Aust (Landscapes) 2002 OWEN HARGREAVES TRIBAL ART GALLERY LONDON– (Landscapes, Africa) 2002 -2001- 1999 - GADFLY GALLERY – (Landscapes and Goddesses)
Press
Synopsis of Astrid Dahl's Work
Typography and geology has everything and yet nothing to do with her work.
Dahl's work has luminosity and character as it captures the deep spiritual nature of "land" with its memorialized seas and shifting tides.
We see in Dahl's palette, the many colours of the earth with a myriad of textures. The layers are a form of mapping the vast contextual layering of the earth both ancient and historical.
Coming to Australia from Asia over four decades ago, Dahl has loved and absorbed the landscape into her psychic. She has familiarized herself with the desert country with its many moods and complex physical and spiritual nuances.
Dahl brings into her work poetry, myth, and perspective dualities. She also explores conceptual thoughts and fragments of recorded ancient memory.
She translates in her own style, that "open mouthed" majesty that we sometimes see in the landscape, and yet a featureless flat area with only sand and rock could have the same "majestic" interpretation. This dry, Australian desert interior, with its fragile, yet tenacious spirit, overcomes great climatic hardships to sustain life. That "struggle" is what fuels her inspiration. Maria Carla
Art Journalist (New York)
2007
Influences
NATURE - THE NATURAL LANDSCAPE - THE ENVIRONMENT - PERSONAL EMOTIONS - THE HUMAN CONDITION AND LIFE IN GENERAL
artist
Marnie
3 days ago
artist
HSIN L.
14 days ago
artist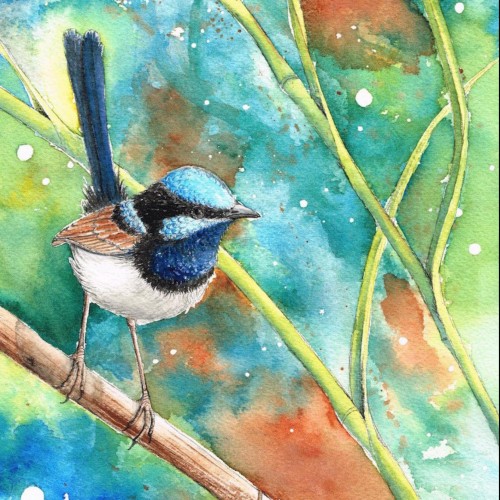 Rebecca P.
4 days ago
artist
Jacqueline B.
19 days ago
artist
Patricia G.
3 days ago
collector
Anna A.
10 days ago
artist
Donna W.
12 days ago
artist
Debra B.
4 days ago
artist
Pauline J.
11 days ago
artist
Brad B.
19 days ago
collector
David H.
11 days ago
artist
Damon L.
22 days ago
Previous
Previous