About
I was born in Verona( Italy) and graduated at the Institute of Art as a Graphic Designer.
Initially I worked as a Graphic Artist in advertising in my home town Verona and held multiple personal exhibitions (styles - mostly ink and watercolour).
Post my arrival in Australia , Melbourne in 1987, I contributed to the Fine Art Illustrations of the Current Australian, Papua New Guinea, Samoa, Singapore Bank Notes and Australian / South Pacific postage stamps at the Note Printing Bank in Melbourne.
My travel continued to South East Asia where I acquired Korean/Chinese painting techniques, pottery and origami.
I now live in Brisbane and continue my Art with Acrylics and Oil on Canvas, Mix Media and Watercolour.
My art is inspired by my travel, immortalising people's customs, views, habits, colours through the four seasons & light, architecture and their way of life.
I love bright colours... life shoud be always full of light and colours.
Education
Art and education
1980 Institute of Arts Verona Italy
2002 -2004 Korean Cultural Art Koje-Do South Korea
2008-2013 Brisbane Institute of Art Queensland Australia
Exhibitions
Exhibitions
1983- 1986 Solo Exhibitions: Verona Italy
2008- 2015 Group Exhibitions Rotary Art Spectacular Brisbane Australia
2009-2013 Group Exhibitions Salfort Water Kingfisher Exhibition Qld Australia
2008-2009 Solo Exhibition Positive Art Exhibition Brisbane Qld Australia
2011 Group Exhibition For Art Sake Brisbane Qld
2010-2013 Group Exhibition. Brisbane Institute of Art Brisbane Qld
2011 Solo Exhibition. Sofitel-Coast Brisbane Qld
2014 Joint Exhibition with artist Catherine Marsh and Karen Collins.
Percolater Gallery Brisbane
2015 Group Exhibition Percolator Gallery Brisbane
artist
Jeanette G.
9 days ago
artist
Laurie C.
3 days ago
artist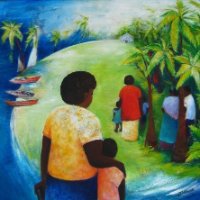 Glenise C.
10 days ago
artist
Katherine A.
7 days ago
collector
Tina K.
7 days ago
artist
Pip P.
3 days ago
artist
Hayley K.
9 days ago
artist
Sandy W.
11 days ago
artist
Christopher J.
12 days ago
artist
Carolyn D.
5 days ago
collector
Carolyn R.
1 day ago
collector
Lorraine C.
1 day ago
Previous
Previous