About
I am one of those people who has been making art all their lives, in preparation for 'becoming an artist one day'. Along with that, I've been a writer, published in many places and paid for the work, but rarely free to say whatever I like. For a living I have been both successful and unsuccessful in conventional business and giving that burden away has been difficult, but a massive relief.
Backstory. Born in a one-antelope town in central Africa, reared by intelligent, complicated parents who worked hard, lived above their means, aspired to the life of the mind and gave us everything they could, without allowing a skerrick of spiritual contemplation to slither into the family zeitgeist. Consequently, I floundered into adulthood - if I'd emerged two decades later I'd definitely have been a Goth; luckily one of my sisters showed me Camus, Chesterton, Fitzgerald and the Greek and Roman myths and the other showed me Vogue.
The bottom line. My work is like a dragon fly with leaden legs that gouge the water, rather than dancing across it.
Education
Master of Visual Arts, Queensland College of Arts, 2013
Bachelor of Arts, University of Cape Town, South Africa, 1979
Exhibitions
Chrome St Art Collective Inaugural exhibition, the Chrome St Gallery. Brisbane. 2015.
180 Birds, Bimblebox Group installation. Brisbane Writers Festival, 2015.
BGS Art Show, Brisbane, 2014.
Influences
Thousands, here is a minute sample:
Visual impact, inter alia: John Sokol, Texas, USA; Robert Motherwell; Lucien Freud; Francis Bacon, Francisco Goya.
Literary impact, inter alia: Hugh Sykes-Davies; Helen Garner; China Mieville; Klaus Ove Knausgaard; Cormac McCarthy; George Elliot; George Orwell.
Philosophical impact, inter alia: Peter Singer; Michel Foucault; John Bowlby; Alice Miller; Maya Angelou.
120cm (W) x 80cm (H)
Other Media
120cm (W) x 80cm (H)
Mixed Media
80cm (W) x 120cm (H)
Mixed Media
artist
Pauline J.
about 1 month
artist
Patricia G.
about 1 month
collector
Anna A.
about 1 month
artist
HSIN L.
about 2 months
artist
Donna W.
about 1 month
artist
Julz R.
27 days ago
artist
Debra B.
about 1 month
artist
Pamela B.
27 days ago
collector
Morgan L.
27 days ago
artist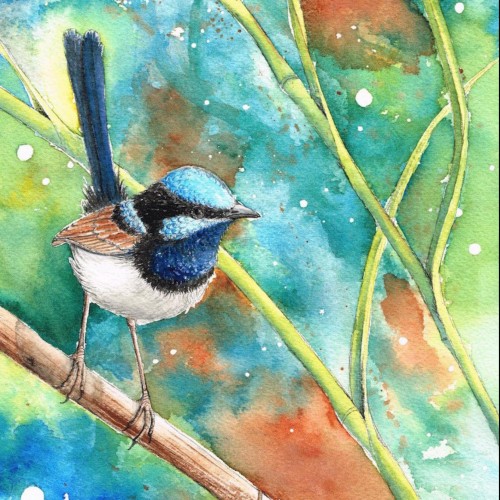 Rebecca P.
about 1 month
artist
Marnie
about 1 month
artist
Susannah P.
29 days ago
Previous
Previous