About
Wherever we are in the world we can always admire the beauty of the sky. I love the many different forms it can be and the mystery of where it leads. It's something that I never get bored of painting. I prefer using an impressionistic style and keeping my paintings semi-abstract. My work is not about obsessing over tiny details; it is about having the freedom to get lost in the moment of what I am creating. Contrasts in texture, line work and blending help create depth and bring a Contemporary style to each piece.
Some of my work focuses on getting back to nature, an escape from the everyday mundane distractions in people's lives - computers, phones etc and bringing the outdoor elements into the home that people have less and less time to appreciate in their hectic lives. Some of the darker elements are brought through in my work – it is not all pretty sunsets and clear blue skies.
Working from memory I like to recreate elements of the atmosphere and blend it into the land and water. I play with the idea of a crossover of all that exists. I want the viewer to ask questions, to be drawn into the painting and feel lost in it – the same way I feel when I paint.
Education
Bachelor of Arts Honours (BA Hons) Degree – Graphic Arts and Design – Leeds Metropolitan University 2002-2005  Covered all aspects of Graphic Design including Photography, Typography, bookbinding, illustration, web design and printmaking.  
Foundation Diploma – Art and Design – Cleveland College of Art and Design, UK – 2001-2002
Advanced Level (A-Level, UK), Art and Design, English Literature, Psychology - Prior Pursglove College, Guisborough, UK - 1999-2001
Exhibitions
Kelmscott Show 2017 -1st Place, Oil Painting.
Rockingham Art Awards 2018 - Finalist - Emerging Artist Award.
City of Gosnells Art Exhibition 2018.
Serpentine Jarrahdale Art show 2018.
Press
City of Rockingham Art Awards 2018 - Front cover of brouchure - print of "Closing In".
Bluethumb Featured Artist 2018.
artist
Jacqueline B.
16 days ago
artist
Pauline J.
9 days ago
collector
Anna A.
8 days ago
artist
Brad B.
16 days ago
artist
Donna W.
10 days ago
artist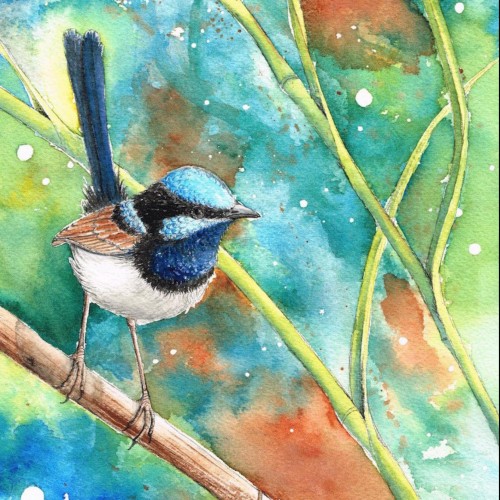 Rebecca P.
1 day ago
artist
Patricia G.
1 day ago
collector
David H.
9 days ago
artist
Debra B.
1 day ago
artist
HSIN L.
12 days ago
artist
Damon L.
19 days ago
artist
Marnie
1 day ago
Previous
Previous