About
Artisan Corner by NEELUM NAND
Hi! I am a Sydney based Abstract Contemporary Artist and full-time mum. I have worked as a designer and photographer for several years, during which painting was my go-to activity to unwind at the end of the day.
When I fell pregnant with my second child a few years ago, I diverted my full attention to painting to keep me busy while I eagerly awaited my baby to come into this beautiful world.
That was when I realised that the one thing that I really loved doing all day long was painting and drawing . I felt it was time...to embrace my true passion! So three months pregnant and lucky enough to be able to, I set up my own studio and the rest was history. I now paint full-time and I cannot be happier. My other interests are pottery and ceramics and occasionally yes, I do still take photos too!
"Mainly self taught and influenced by life experiences' travels and everyday surroundings, my love and enthusiasm of creating art resonates in my paintings.
I love exploring new and varying techniques, combined with various mediums to blend and merge colours and form' drawing new inspirations and ideas along the way.....every piece I paint or create has an individual inspiration and story behind it."
Top Categories
Education
Bachelor of Fine Arts
Diploma of Graphic Design
Photography
Exhibitions
Current Exhibition:
Solo Exhibition - 'Frontiers'
The Space Gallery - Rosebery , Sydney
30th Oct - 11th Nov 2018
Previous Exhibitions:
Group Show - 'Everything In-between'
The Space Gallery - Sydney
August 2018
Group Show - Platform 72 - Sydney
July - Aug 2016
2017
Group Show - Gallery Klei
Sydney City
Dec 2015
Press
Featured Artist - Southern Courier
Eastern Suburbs Sydney
30th Oct 2018
Review - Art and Culture, The Backyard Opera Magazine
November 2018
artist
Julie S.
12 days ago
artist
Natasha J.
8 days ago
artist
Tim G.
12 days ago
artist
Stuart E.
1 day ago
collector
Andrea D.
8 days ago
artist
Tracey B.
8 days ago
artist
Christine S.
10 days ago
collector
Kath P.
6 days ago
artist
Margaret (.
8 days ago
artist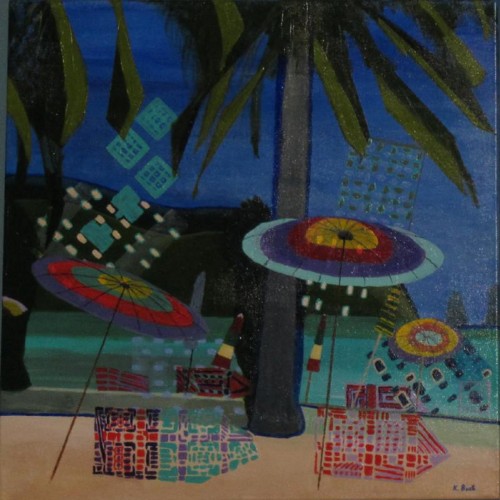 Kathy B.
12 days ago
artist
Daniele L.
10 days ago
collector
Rebecca F.
9 days ago
Previous
Previous