CELEBRATING AUSTRALIAN PORTRAIT PAINTING
The Archibald Prize has a rich history as one of Australia's most prominent and coveted art prizes.

Awarded annually since 1921, the Archibald Prize celebrates portraiture through the artistic flair of its entrants and their subject matter, most often distinguished Australians from the fields of arts, letters, science or politics.

Finalists are exhibited at the Art Gallery of NSW, home also to the prestigious Sulman Prize, Wynne Prize and the Dobell Drawing Prize.
BLUETHUMB 2017 ARCHIBALD PRIZE FINALISTS
Loribelle Spirovski
13625 VIEWS | 196 FOLLOWERS
Archibald Prize Finalist 2017
Born in 1990 to a Filipino mother and Yugoslav father, artistic creation has always been my escape and fortitude against the personal challenges I experienced as a migrant, adapting to life in Australia – a vast land drenched in colour, and the murmurings of something primordial.
Kim Leutwyler
42295 VIEWS | 346 FOLLOWERS
Archibald Prize Finalist 2016 / 2017
Born in America, Sydney-based Kim Leutwyler migrated to Australia in 2012. She works in a variety of media including painting, installation, ceramics, printmedia and drawing. Kim holds concurrent bachelor degrees in Studio and Art History from Arizona State University, and additionally graduated from the School of the Art Institute of Chicago with a Painting and Drawing degree.
Julius Killerby
1737 VIEWS | 38 FOLLOWERS
Archibald Prize Finalist 2017
Julius Killerby is a Melbourne based artist, working predominantly with photography and paint. He generally depicts figures on deserted islands, juxtaposing photography and paint to convey a psychological intensity in his subjects, prompted by their isolation.
Dee Smart
1130 VIEWS | 27 FOLLOWERS
Archibald Prize Finalist 2017
Dee Smart, Archibald 2017 Nominee How did you fall into becoming an artist? I began drawing after the birth of my first daughter Charlie 14 years ago. Every time Charlie went down to sleep Id set up a still life in my kitchen and draw. I then attended many still and life drawing classes at night around Sydney. I also studied sculpture with Dave Horton, which I loved…. I love the human body! I attended the Victorian College of the Arts dance school, full time as a teenager so I am very tuned to the physical body and all its wonderful complications and joys.
Mertim Gokalp
1764 VIEWS | 58 FOLLOWERS
Archibald Prize Finalist 2013
Mertim Gokalp came to Australia in 2009. Within a few year after his migration, he has been selected as a finalist in all the top portrait exhibitions here: the Archibald Prize; the Doug Moran Portrait Prize; and the Black Swan Art Prize. These accomplishments in short time allowed him to receive a distinguished talent visa by the Australian Government for him to live and work in Australia. He recently became an Australian citizen.
collector
Gail G.
3 days ago
artist
Sandra M.
7 days ago
artist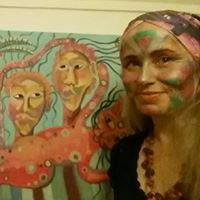 Bronny D.
1 day ago
collector
Louise O.
3 days ago
collector
Louise B.
7 days ago
artist
Sarah M.
5 days ago
artist
scott j.
7 days ago
artist
Lesley T.
2 days ago
artist
Connie K.
3 days ago
artist
David C.
1 day ago
collector
Sandra P.
7 days ago
artist
Bronwyn M.
3 days ago
Previous
Previous