Entrant
About
Awards and Finalist List2018 Finalist Fleurieu Biennale Art Prize2017 Finalist Tatiara Art Prize Salon des Refuse RASASA Portrait Prize2016 Finalist Rick Amor Drawing Prize Winner Rain Moth Gallery River Life Art Prize Watershed Art Prize Finalist Emma Hack Prize Finalist 2015 Royal South Australian Society of the Arts Portrait Prize FinalistBiography and Education2017: working towards first solo exhibition2016: November 2016 – January 2017 – self-funded study trip to France and London. Study and drawing of objects in the Coins and Medals department of the British Museum for upcoming new body of work Elected as Chair of Central Studios Adelaide - one of the oldest artist collectives in Australia Adelaide Central School of Art Masterclass Fact and Fiction: Chris Orchard2015: Adelaide Central School of Art Masterclasses Louise Fenely and Melanie Brown2014 Working Art History Trip Europe – Paris: Musee d'Orsay, The Louvre, Holland: Maruitshuis, Van Gogh Museum and The Rijksmuseum, London: The Tate and Tate Modern, The National Gallery and The Wallace Collection2013 Adelaide Central School of Art Masterclass with Melanie Brown2012 Masterclasses with Robin Eley and David Kassan Group Shows2017 SALA exhibition: terrace Floors and Furnishing Norwood Adelaide, Franfest:Scapes at Studio Bowden, RSASA Portrait prize Salon Des Refuses2016 SALA exhibitions: Terrace Floors and Furnishings Norwood Adelaide, Central Studios Grote Street 'The Last Hurrah"2015: Art Images Christmas Show, Art Images SALA, Royal South Australian Society of Arts Portrait Prize, Pastel Artists of South Australia at Chapel Hill Winery and Maxwell Estate, 2014 SALA Open Studio at former studio Boskenna, SALA solo show 'Island Life" Waverley House café Mitcham, Boskenna Studio Gallery M Marion2013 SALA Open Studio at studio Boskenna, Artist in Residence SALA ON SALEAt the end of 2016 and beginning of 2017 I embarked upon a self-funded programme of study at the British Museum, for a new body of work and hopefully first solo exhibition. This body of work continues to develop.Alongside the development of this work, I will continue to work in oils and pastels, producing a separate body of work influenced as always by natural forms in the environment and the human body. I spend time with landscapes to study form and detail, in a process of careful watchfulness combined with a sense of intuition. I really am happiest outside in the natural world, although I rarely paint plein air. It takes time for me to absorb a landscape, and what it means, and the painting that is influenced by the landscape is almost always completed in studio.I am continuing to hone my skills and practice and will often go back to drawings, rub them back and draw over them again.Since starting classes with Central Studios in 2012, my work is becoming recognisable as a form of subtle abstraction, which brings the viewer into an intimate space with a landscape. I am a regular exhibitor in the SALA Festival and have participated in group shows with Central Studios. I was elected Chair of Central Studios in 2016, managing and co-ordinating the move of 16 artists to their new home in Kent Town. I work hard to advocate on behalf of the studio members, as well as my own practice.
Education
Member of Central Studios Adelaide
Adelaide Central School of Art Short Courses in Drawing and Painting 2010-2017
David Kassan Drawing From Life July 2013
Robin Eley Painting the Portrait July 2013
Melanie Brown Old Master Oil techniques April 2014
Exhibitions
Finalist Rick Amor Drawing Prize 2016
Finalist Emma Hack Prize 2016
Winner RainMoth Gallery Inaugural Prize - Best Painting
Group Show The Big Landscape Art Images Norwood South Australia 2015
Finalist Royal South Australia Society of Arts Finalist 2015
Regular participant in SALA since 2012
Challinger Gallery RAH Adelaide 2012
Regular participant in SALA since 2012
Challinger Gallery RAH Adelaide 2012 solo
Influences
I am influenced by natural forms and the natural world. I love colour and light. Trying to capture the essence of the landscape or the object is more important to me than painting a realists scene, although my early work does reflect a more realist apporach to painting. There are many artists who influence my work - Cezanne' Van Gogh' Monet' Wolf Kahn' John Brack' Bougereau' Georgia O'Keefe, Dorothea Tanning, Cressida Campbell' Vermeer in no particular order
artist
Pamela B.
27 days ago
artist
Susannah P.
29 days ago
artist
Pauline J.
about 1 month
artist
Marnie
about 1 month
artist
HSIN L.
about 2 months
collector
Anna A.
about 1 month
collector
Morgan L.
27 days ago
artist
Debra B.
about 1 month
artist
Julz R.
27 days ago
artist
Patricia G.
about 1 month
artist
Donna W.
about 1 month
artist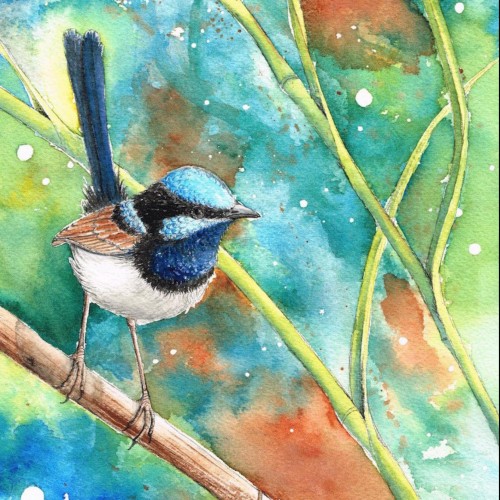 Rebecca P.
about 1 month
Previous
Previous