Semi-finalist
About
My name is Carla Grace and I am inspired by beautiful art that is technically strong as well as visually pleasing. I have been creating art since a young age, but have only recently been working full time in my field. I love art that can be understood and connected with on a visual basis, and rather than complicating a piece, my ambition is to simplify it.
I grew up in different parts of Africa, namely South Africa, Zimbabwe and Zambia and so have lived with a love for culture and wild life. I also love to paint and draw eyes! To me they capture the sole of the image, and once that is perfect I can confidently finish a piece. I am inspired by beauty, in its simplicity and intricate complexities.
Feel free to get in touch or check out my website www.carlagraceart.com as I blog about my work and processes. There is also a studio page that shows my working process and pieces that I have on the go prior to completion.
Education
Exhibitions
2017, Australia Fashion Show, JYL Gallery Presentation , (November)
​
2012 Private Solo Show, Invite Only, Perth (December)
​
2016 Group Show RAW: Trend, Brisbane (June)
​
2017 Group Show The Other Art Fair, Melbourne (May)
Press
O N L I N E A R T I C L E S
​
2016 Carla Grace, "Carla Grace Art: She Doesn't Just Paint a Pretty Picture", www.crowdink.com (July)
​
2016 Vanessa Glennon, "Art's Hidden Value", www.bluethumb.com (July)
​
2017 Carolyn Edlund, "Featured Artist Carla Grace", www.artsyshark.com (December)
​
​
P E R I O D I C A L S
​
2015 Art Edit Magazine, Editor's Special Finds, Featured. Oct/Dec Issue_8
​
2016 Bluethumb Online Gallery, Feature Artist, April
​
2017 Art Edit Magazine "Ones to Watch", Summer Issue_12
Influences
CJ Hendry and my grandmother
artist
Debra B.
about 1 month
artist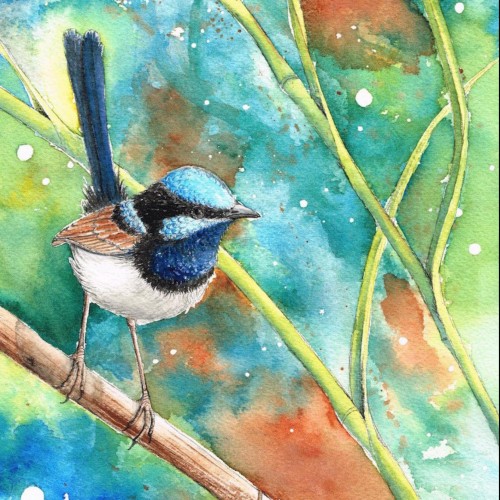 Rebecca P.
about 1 month
artist
Pamela B.
27 days ago
artist
Susannah P.
29 days ago
artist
HSIN L.
about 2 months
collector
Anna A.
about 1 month
artist
Marnie
about 1 month
collector
Morgan L.
27 days ago
artist
Julz R.
27 days ago
artist
Donna W.
about 1 month
artist
Patricia G.
about 1 month
artist
Pauline J.
about 1 month
Previous
Previous