About
Thanks for following Ciska's Art - Australian Artist
Ciska's lives in Townsville, Queensland, Australia
Ciska is an emerging artist currently re-engaging with her lifelong love of art. As a child Ciska used to draw and paint alot but following her dream didn't seem to be a reality. Ciska had to get a real job and raise a family. Once the children had fled Ciska discovered she had a mental illness. Whilst suffering and learning to manage Bipolar Disorder, Ciska was lead back to painting. Ciska came to see this as a medium to "Embrace the Child within and a Journey through life with a Passion for more Creativity".
Ciska has been painting in Acrylics, Oils and Inks as well as using texture in her paintings, for the last 16 years. She looks to express the image with movement and texture whilst aiming to bring colour, light, and form in all her works, as well finding her own uniqueness and creative flow without loosing the story of what brought her to the pieces conclusion. Ciska's works are Fun, Diverse and Vibrant.
After many years, Ciska looks forward to many artistic adventures along the path while exploring the passions of life within her work.
To Ciska Painting is like flying, it is uplifting and a pleasure to share with other people
Ciska is grateful that she has many works in homes and businesses all over Australia.
If she can put a smile on your face, or
Has taken your soul to a different place,
she has succeeded.
………….Embrace the Child within yourself……………
….Be Creative and make Someone Smile……
All #Ciska's works are exclusively copyrighted© by Ciska and is not for reproduction under any format without Ciska's permission. © All images copyright by Ciska 2018
………*All commission work will be accepted with a non refundable deposit. Ciska will make sure she works with you along the way so that you will be totally happy with your piece of art.
...............**All Paintings are Signed and they come with a "Certificate of Authenticity" also signed by " Ciska", the artist.
Exhibitions
In 2013 Ciska received a Highly Commended Award in the Open Section, with her painting entitled 'Taste of Rollingstone' entered at the Townsville Art Society 58th Awards Open section at the Perc Tucker Regional Gallery, Townsville, Queensland, Australia.
In 2009 A selection of the top works were selected for publication. Ciska's painting entitled 'Attitude' was chosen to be published in the Redbubble book called "Nude". Nude is part of the long artistic tradition looking at the human form in all its beauty.
In 2007 at Townsville Fine Arts Awards with her painting entitled
'Heron Flight' in Novice open section received 1st Prize, and
with her painting entitled
'Secrets of postcard' in the Open section received Highly Commended.
Influences
I was taught the basics of painting by a dear friend De Gillett a fabulous artist here in Townsville
After that I can say I am a self taught artist, trying new things all the time. I haven't put my brush down since.
artist
Donna W.
about 1 month
artist
Susannah P.
29 days ago
artist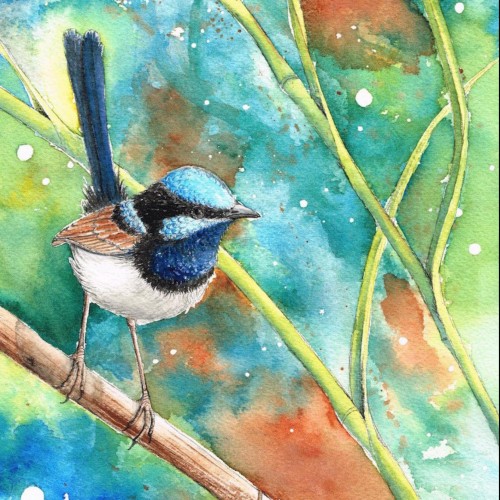 Rebecca P.
about 1 month
artist
HSIN L.
about 2 months
artist
Julz R.
27 days ago
collector
Morgan L.
27 days ago
artist
Pauline J.
about 1 month
artist
Pamela B.
27 days ago
collector
Anna A.
about 1 month
artist
Patricia G.
about 1 month
artist
Debra B.
about 1 month
artist
Marnie
about 1 month
Previous
Previous