About
I am an artist, illustrator, teacher living in beautiful tropical North Queensland. From early childhood I was a compulsive drawer and maker inspired by the creativity of many family members including my grandfather, Melville Haysom. Teaching at Mornington Island in 1982 (the first of several postings to isolated Aboriginal communities) lead to our lasting involvement and friendships with Indigenous people and their rich and diverse cultures and influencing my art in profound ways.
At 15 years I was commissioned to illustrate a German language textbook, kick starting my freelance illustrating career of 45 years. My illustrations are generally commissioned for adult educational resources. I also love to illustrate children's literature. There is so many imaginative possibilities!
Whereas my illustrations are prescriptive, my own art often takes on an exciting, unpredictable life of its own! I don't like to be boxed in to a style! The environment, gardening, health, modern life colliding with traditional cultures and travel are themes reflected in my art practice. Art is a journey rather than an accomplishment and I hope never to stop trying to find a fresh vision.
My art and illustrations are in private and government collections and publications throughout Australia and internationally.
Education
Dip. Teaching (Home Economics/Economics) B. Education (Professional Development) 2 subjects from B. Creative Industries Freelance illustrator since 1973
Exhibitions
'Gaarrar':St Vincent's Hospital,Melbourne with Joe Geia:2016 The Blunt Portrait Prize:2014,2015,2016 'The Parlour':Vibe Bar,Cairns: 2011 'Waterways':Cairns City Council, opening Peace Week:2010 'Diabetes'(solo):Tanks Art,Cairns:2002 Caloundra Festival of Arts:2000 Pacific Toyota Lexus Launch:1995 Bama Ngappi Ngappi opening:1995 Pacific International Hotel-participated and curated "Bama of the Rainforest':1995 Grafton Hotel:2000 Innisfail Art Society Exhibition:1999 Atherton Art Society Annual Exhibition:1994 Moreton Shire Art Exhibition:1992 Cairns Art Society Art Show:1987,1997,1998,1999,2000,2001
Influences
Melville Haysom, Dick Roughsey (Mornington Island), Aboriginal art, Abstract Expressionism, Modernism, childrens' illustrated literature, the environment
artist
Patricia G.
7 days ago
collector
Anna A.
14 days ago
artist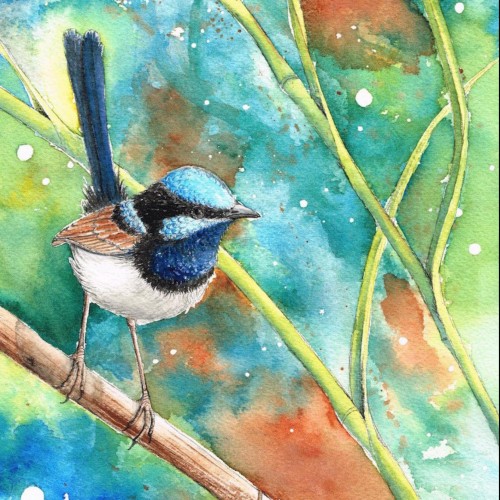 Rebecca P.
7 days ago
artist
Donna W.
15 days ago
artist
Damon L.
25 days ago
artist
Jacqueline B.
22 days ago
artist
Brad B.
22 days ago
artist
Debra B.
7 days ago
artist
Marnie
7 days ago
artist
HSIN L.
18 days ago
artist
Pauline J.
15 days ago
collector
David H.
15 days ago
Previous
Previous