About
Kevin was born in Brisbane, Queensland but raised at the Gold Coast.
After graduating from Year 12 he worked as a commercial artist for the Gold Coast Bulletin before joining the Royal Australian Air Force until he retired in 1997 after 20 years service.
Upon retirement from the Air Force he opened his Graphic Design business in Hervey Bay. Within 18 months he had 48 Offices across Australia, New Zealand and Europe. He sold the business in 2004 and retired yet again to travel around Australia photographing and painting the eclectic corners the country had to offer.
Kevin and his wife Jeanette have lived in every State and Territory of Australia and spent six years in Asia studying art in Singapore.
He now lives in Howard after living for 8 years in the remote village of Daly Waters in the Northern Territory, Australia and spends all his days drawing and painting and experimenting with mixed media and techniques. He recently ceased full time contribution to Artist's Palette magazine to concentrate on his fine art in more detail.
First published at age 13 in Brisbane Courier Mail Newspaper
(1970)
Highly Commended Nerang Art Festival
(1977)
Military Service with the RAAF
1977 - 2005

Art Prizes
Three Springs 150th Centenary Art Competition
1st Place - People's Choice
1st Place - Acrylic
1st Place - Oil
1st Place - Watercolour
(2006)
Highly Commended
2010 Katherine Art Prize
First Place
2014 Katherine Art Prize
People's Choice Award Winner
2016 Katherine Art Prize
2010 became a writer for Artists Palette Magazine
and Artists Palette "Back to Basics" Magazine
Education
Diploma in Front Line Management
Diploma in Business
Diploma in Commercial Art
Associate Diploma in Business Administration
Year 12 Matriculation
...plus over 50 post graduate IT and Art courses.
Exhibitions
Three Springs Art Festival Western Australia
Katherine Godinmayin Gallery 2014, 15 and 2016
Press
Permanent contributor to Artist's Palette magazine up until 2014.
artist
Katherine A.
7 days ago
artist
Sandy W.
11 days ago
collector
Tina K.
7 days ago
collector
Carolyn R.
1 day ago
artist
Christopher J.
12 days ago
artist
Laurie C.
3 days ago
artist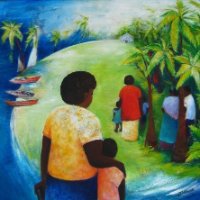 Glenise C.
10 days ago
artist
Carolyn D.
5 days ago
artist
Hayley K.
9 days ago
artist
Pip P.
3 days ago
collector
Lorraine C.
1 day ago
artist
Jeanette G.
9 days ago
Previous
Previous