About
I am at my happiest when there is a paint brush in my hand. It is pure joy for me. My studio pulsates with music when there is a creation in the making, my idea of bliss.
I love the ocean and live very close to the beach which is one of the biggest influences in my artwork. However, I love bright colours, bold brushstrokes and semi-abstract designs, and don't subscribe to the notion that I should be pigeon holed into any one style of painting or subject; I'm always trying new techniques and styles.
Have a look at my Instagram account, (link below), you will see what I mean, it's a diverse collection of paintings that I've done in the last few years.
I paint on stretched canvasses, primarily with acrylics, but also use collage, ink, oils, pastels and pencils in my works and love to add textural surprises and unexpected pops of colour.
Mostly self-taught, I have attended a few workshops and done some online courses too. My art is ever evolving as I explore the different styles and nuances of modern-day art and discover new techniques.
Probably considered a late bloomer, I didn't paint seriously until a few years ago, but my love of art has always been apparent. As a child, there was always a pencil or crayon in my hand and I have always been creative throughout my adult life.
Having recently completed several successful commissions, my paintings now 'live' in several locations throughout, NSW, WA, Sunshine Coast, Brisbane and New Zealand.
Education
Self-taught.
I studied art in high school and have completed a couple of workshops and short online courses, but mostly self-taught.
Exhibitions
Selected to be hung at Uralla Art Show, 2017
Sunshine Coast Agricultural Show, 2015
3rd place at Sunshine Coast Agricultural Show 2015 with the entry 'The Young Soldier.'
Influences
One of my earliest influences was Australian landscape artist Len Hend, I learnt so much from him in the early days of my painting journey.
Another landscape artist whose work I really admire is New Zealand's Richard Robinson.
Russell Drysdale and Sidney Nolan's works are just brilliant, they were so daring and adventurous, breaking the mold and the rules of the day and put Australian art well and truly on the map.
Van Gogh, Matisse, and Joaquin Sorello are among some of my favourite really old dead guys.
artist
Jeanette G.
9 days ago
artist
Laurie C.
3 days ago
artist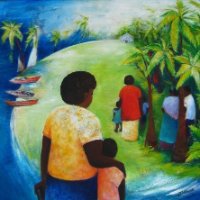 Glenise C.
10 days ago
artist
Katherine A.
7 days ago
collector
Tina K.
7 days ago
artist
Pip P.
3 days ago
artist
Hayley K.
9 days ago
artist
Sandy W.
11 days ago
artist
Christopher J.
12 days ago
artist
Carolyn D.
5 days ago
collector
Carolyn R.
1 day ago
collector
Lorraine C.
1 day ago
Previous
Previous