Semi-finalist
About
Born in a small town in New Zealand in 1982, Logan Moody is a Stencil Artist, Urban Photographer and Video Maker.
Whilst he showed an interest in art from an early age, and pursued photography in high school, Moody only began actively creating art and photography in 2006 with single layer stencils. Over the next few years his style evolved and took the form of a more photorealistic approach.
In 2008 Moody held his first solo exhibition at the Growroom Gallery in Auckland, and the following year he moved to what was considered the stencil capital of the world, Melbourne, Australia.
While originally making the move to further his career working on live sports broadcasts, the change also brought Moody a new line of opportunities for his stencil work. The sprawling urban environment Melbourne provided became the inspiration for his work, and as he began to explore these new surroundings discovered his passion for capturing the beauty of city life.
Since moving in 2009 Moody has been selected multiple times as a finalist in the Stencil Art Prize, and annual showcase of international stencil artists held each year in Sydney. He has also taken part in numerous group shows, published a book of photography, and has been creating work for people all over the world.
If you would like to get in touch to talk about commission work, please head to the contact page and fill in the form.
Moody can be followed on Instagram at @_lrm_ for photography, @loganmoodyart for stencil works, and @lomocomedia for his videography.
Education
2016 - 2017 - The Photography Institute (AU)
2003 - 2004 - South Seas Film & Television School (NZ)
2000 - 2002 - Western Institute of Technology (NZ)
Exhibitions
2018 - Bluethumb Art Prize
2018 - Contemporary Art Awards
2017 - Georges River Art Prize
2017 - Sharpshot Photography Show
2017 - RAW:Melbourne - NEXT
2016 - Stencil Art Prize
2015 - Stencil Art Prize
2013 - Stencil Art Prize
2012 - Stencil Art Prize
2011 - Sweet Streets
2011 - BSG Art Prize Finalist
2011 - Urban Art Throw Up
2011 - Urban Art 11A
2010 - Sweet Streets Festival
2010 - Urban Art 10A
2009 - Melbourne Stencil Festival
2008 - "Paper Cuts" (solo)
artist
Marnie
5 days ago
artist
Debra B.
5 days ago
artist
HSIN L.
15 days ago
artist
Brad B.
20 days ago
artist
Pauline J.
12 days ago
artist
Patricia G.
3 days ago
artist
Jacqueline B.
20 days ago
collector
David H.
12 days ago
collector
Anna A.
12 days ago
artist
Patricia G.
5 days ago
artist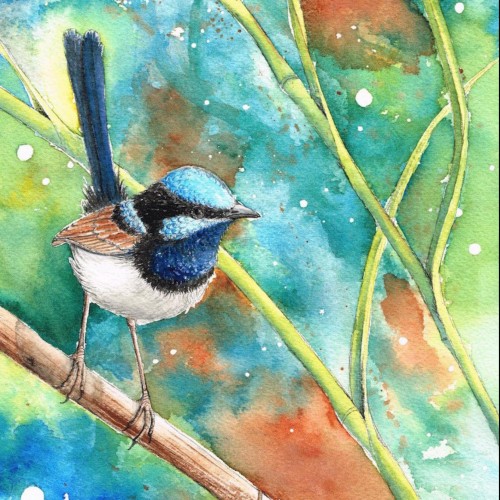 Rebecca P.
5 days ago
artist
Donna W.
13 days ago
Previous
Previous