About
I was born in Melbourne in 1950. In August 1994 I pursued a childhood passion for drawing and commenced Adult Education classes at Macedon Ranges further education centre in Gisborne' improving my skills in watercolour' mixed media' drawing' lead lighting' mosaic' sculpture and silk screen printing techniques. I started using and incorporating pastels in my work in 2001 and more recently' acrylics.
I have tutored art classes for Macedon Ranges Further Education Centre Inc. in Gisborne for 13 years. Also tutored at Ballan Community House and in Sunbury for Arthouse Direct art supplies. I have also tutored classes in pastels as well as conducted workshops and demonstrations for my art group. I have been a member of Sunbury Art Society for the past 14 years and formally held the position of President' until recently' for 3 years. I was also a member of Phoenix Macedon Ranges Art And Craft Incorporated' for in excess of 10 years.
My works have been in numerous art shows winning a number of awards. I have also participated in Community projects painting bollards at Coburn Primary School in Melton and been actively involved in the painting of a mural at the Goonawarra aged care facility in Sunbury. In 2009 my art works' along with two fellow artists' were in a successful show held at the Melbourne Airport Hilton. At the 2011 and 2012 Bacchus Marsh Rotary Art shows' my paintings were purchased by the Moorabool Shire Council as part of their art collection and display in the Mayoral Offices.
My work subject is mainly' Australian natives' eucalypts' birds and the occasional landscape. I have enjoyed my journey in the arts and find it extremely satisfying and rewarding. I very much enjoy tutoring and to impart my knowledge onto others and watch their delight with their improvement.
artist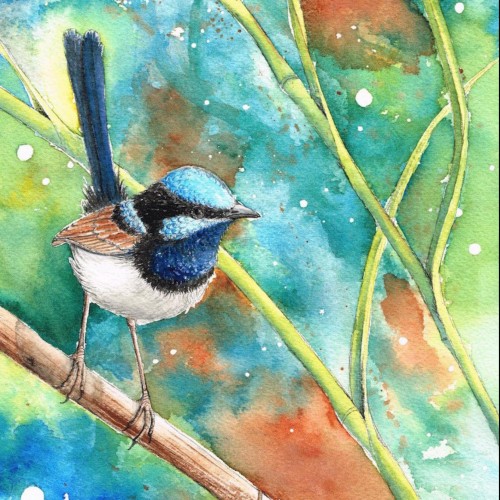 Rebecca P.
about 1 month
artist
Debra B.
about 1 month
collector
Morgan L.
26 days ago
artist
Marnie
about 1 month
artist
Pauline J.
about 1 month
artist
Pamela B.
27 days ago
artist
Donna W.
about 1 month
collector
Anna A.
about 1 month
artist
HSIN L.
about 2 months
artist
Susannah P.
29 days ago
artist
Patricia G.
about 1 month
artist
Julz R.
27 days ago
Previous
Previous