About
Colouring the canvas, colouring me!
I started painting when I stopped full-time work seven years ago, with a simple aim to stop sitting at a computer and to 'stand upright' - and to fill time on my hands. I did not believe I could draw or paint. I wanted a hobby to enhance time and mobility. I bought a large easel, brushes, acrylic paints and a 'how to' book, and set up a work space in a corner of my one bedroom inner city apartment - and started. Sheer determination to be disciplined, to create a stand up hobby, kept me going because it appeared my 'belief' was reality.
The gifts I had going in my favour, were a curious and daring nature that enjoys taking risks and an eye for beauty, seeing what works with what. Plus a fierce determination to persevere; and an enduring belief in my likeness to The Creator, when I get out of the way and 'allow God'. In a matter of months, my pragmatic choice to paint had become a passion to create. After my first painting sold I was on fire. Since then, painting is not only a passion, it has become a full-time job.
I moved back home, to Yeppoon on the Capricorn Coast, and paint in a room dedicated to creativity; a most heavenly mess.
Inspired by nature and flowers as Waldo Emerson describes them, 'Earth laughs in flowers' - and by the age we live in, as described by Ariel Dorfman, 'The Age of the refugee, the age of the exile', I aim to express the whimsy nature invokes and the diversity of human nature. Both/and express my natural duality; a lover of beauty with a passion for new ideas, and social justice. Finding the symbol, poem, idea or quote that best expresses the feeling the painting arouses, completes the big picture. My hopes for the future are to keep learning, to keep growing, to keep creating with an open mind. To follow where the adventure leads.
Art is a joy that has taken me by surprise. Being a Top Seller on Bluethumb for three years in a row is mind-blowing.
Thank you!
Custom made quality canvas Commissions are available to suit your specific size requirements.
All artworks come with a certificate of authenticity signed by the artist.
Education
B.A. Grad Dips' Counselling/Psych' TESOL' IELTS, Massage & Bowen, author, many life lessons.
Exhibitions
Chez moi. A fine art shop displays and sells some of my paintings.
Press
Social MediaFacebook: https://www.facebook.com/lucpaintings/
Twitter: https://twitter.com/ArtistluC
LInkedin: Louise Croese Artist in residence Chez Lu
Instagram: louisecroese_art
Influences
"Art is a collaboration between God and the artist, and the less the artist does the better." - Andre Gide
Great news for an intuitive artist with a passion for freedom, and Creation.
artist
Marnie
2 days ago
artist
Debra B.
2 days ago
artist
Pauline J.
10 days ago
artist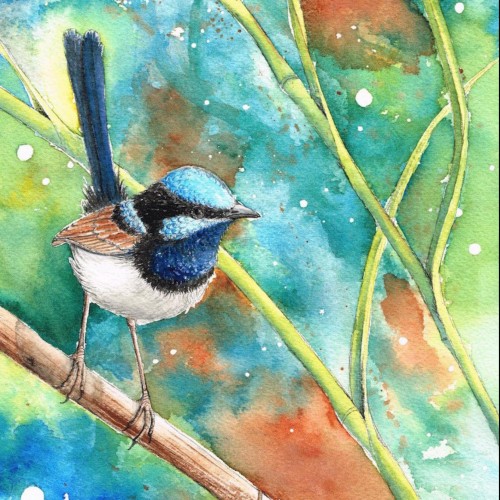 Rebecca P.
2 days ago
artist
HSIN L.
13 days ago
artist
Jacqueline B.
17 days ago
collector
Anna A.
9 days ago
artist
Patricia G.
2 days ago
artist
Damon L.
20 days ago
artist
Brad B.
17 days ago
collector
David H.
10 days ago
artist
Donna W.
11 days ago
Previous
Previous