About
Pamela Irving has worked as a full time artist for over 30 years. Her sense of humour, love of irony and respect for storytelling are apparent in her varied body of work – from works on paper to bronzes to large-scale mosaic installations.
Pamela is best known for Larry La Trobe, her bronze dog sculpture, situated in front of the Melbourne, Town Hall. Larry – her dog-formed alter-ego – has been Irving's faithful companion throughout her long successful career. Pamela's art has infiltrated many other public spaces around Melbourne, including her enormous mosaic reverie at Luna Park, titled 'Dreaming with Open Eyes'. Her paintings and prints on Bluethumb are typical of her work. The prints are small editions, making them quite collectible and they are very affordable.
Irving has developed an international reputation as an artist. As well as exhibiting widely throughout Australia she regularly exhibits in Chicago, USA.
Pamela's works are represented in public and private collections nationally and internationally, including the City of Melbourne, Museum Victoria, Art Bank, The Museum of Art in Ravenna, Italy, Australian Regional galleries, Municipal and School collections.
Pamela has travelled the world extensively, both for work and pleasure. These experiences are reflected in her evolving body of quirky, playful and thought-provoking works.
Pamela Irving has a Bachelor of Education and Master of Arts from the University of Melbourne.
Education
1979-1982 Bachelor of Education (Art/Craft) Melbourne State College.
Thesis: "Contemporary Australian Ceramics from the Shepparton Arts
Centre Collection"
1984-1989 Master of Arts ( by Research)
University of Melbourne (Institute of Education), Victorian College of the Arts
Thesis: "The Angel Imagery of Arthur Boyd, John Perceval and Mirka Mora".
Exhibitions
Exhibited widely throughout Australia, Japan, Russia, and America since 1981
Currently working towards second exhibition in Chicago in September 2016
Currently in a group exhibition touring Japan until end of 2016
Exhibiting in the Museum of Religious Art, Dallas Texas in April 2016 (invitaional)
In 2017 a large retrospective of my work will be held in a public Gallery in Melbourne.
Press
Who's Who of Australian Women
Encyclopedia of Australian Art
Numerous articles in newspapers, journals etc....see full cv on my website.
Influences
I am influenced by mythological stories'my travels far and wide and the people I meet!
artist
Debra B.
7 days ago
collector
David H.
14 days ago
artist
Marnie
6 days ago
artist
Brad B.
22 days ago
collector
Anna A.
14 days ago
artist
Donna W.
15 days ago
artist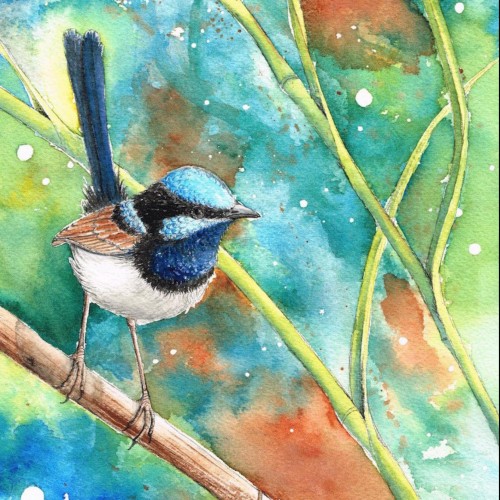 Rebecca P.
7 days ago
artist
Damon L.
25 days ago
artist
Jacqueline B.
22 days ago
artist
HSIN L.
17 days ago
artist
Pauline J.
14 days ago
artist
Patricia G.
6 days ago
Previous
Previous