About
Sophi Odling paints on canvas and walls that reflect the environment and culture that she encounters. Traveling the world, seeing the people, streets and way of life, these are Sophis spectacle.Born 1983 in Seoul, South Korea, Sophi grew up in Sydney, Australia where she currently lives and works. In 2005 Sophi completed her BFA at UNSW College of Fine Arts. Her murals can be seen in Thailand, Nicaragua and Australia, and has exhibited in Tokyo and Australia over the years.Sophi focuses purely on her painting and growth in the mural/public art world. Her studio is based in the creative hub of Sydneys inner city. After completing an artist residency in Thailand in 2016, Sophi continues to plan her ongoing travels as the main source of inspiration for her works which celebrate the acceptance of cultural diversity and to provide awareness of our current social and global climate.
Top Categories
Education
2005 - University of NSW, COFA College of Fine Arts, Bachelor of Fine Arts, 2005
Exhibitions
2018 Solo - 'Kingdom Builders' m2 Gallery, Surry Hills Sydney
2018 Group - Brisbane Street Art Festival BSAF, 'Within these Walls' Brisbane Powerhouse Museum
2018 Group - Guide Dog Australia CNY Exhibition, Circular Quay outdoor installation
2017 Group – Stayfly Exhibition, Beach Burrito Bondi Beach
2017 Group – Bad Girl Garden, Enmore Sydney, Live painting and group exhibition
2017 Group - The Light of Dawn, Chippendale Creative Precinct Sydney, Live street art painting and group exhibition
2016 Group - MOST Marrickville Open Studio Trail, The Art Room Precinct 75
2010 Solo - Tokyo Lights Collection Kaleidoscope Gallery Sydney Australia
2009 Solo - Tokyo Lights Collection, Design Festa Vol.30 Tokyo Japan
Press
2017 Inner West Open Studio Magazine 2017, cover page
2016 Starry Nights Programs: Artists to Look Out For Vol III, p 74
2013 Living and Lifestyle Magazine, 'Editors Letter' January 2013 p.10
2012 Vogue Living Magazine, 'Travel' May/June 2012 p.198
2012 Minestyle Magazine, Carly Wharton 'Bag a Beauty' March 2012 p.26
Influences
Jeff Koons
Christian Boltanski
Yayoi Kusama
Okuda San Miguel
Felipe Pantone
Tavar Zawacki
90cm (W) x 120cm (H)
Mixed Media
75cm (W) x 75cm (H)
Mixed Media
110cm (W) x 150cm (H)
Acrylic Paint
artist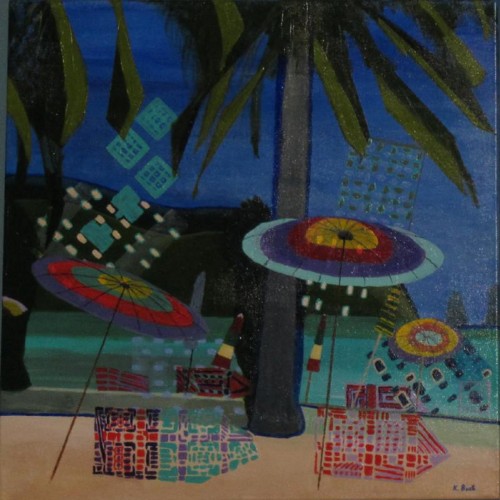 Kathy B.
12 days ago
collector
Andrea D.
8 days ago
artist
Natasha J.
9 days ago
artist
Margaret (.
8 days ago
artist
Christine S.
10 days ago
artist
Tracey B.
8 days ago
collector
Rebecca F.
9 days ago
artist
Stuart E.
1 day ago
artist
Julie S.
12 days ago
artist
Tim G.
12 days ago
artist
Daniele L.
11 days ago
collector
Kath P.
6 days ago
Previous
Previous