About
I mainly paint now but have done many genres including printmaking' mosaics ' jewellery, sculpture with clay hebel and wood.
I paint anything from abstract to expressionism' including figures' birds, faces and shapes and some experimenting with other aspects of painting. I particularly like doing mixed media - a lot of my work has collage included in it - some being from my old prints. I am interested in little sculptural works using boxes and other bits and pieces.
I am influenced by many things including a lot of travel overseas and here and a lifetime of observation.
I have a studio in Randwick.
Education
I studied art for the HSC.
I completed a post certificate in Printmaking at the National Art School (East Sydney Tech.) 1987
and also a statement of attainment in 1988
After an absence from painting I attended an open painting studio at Meadowbank TAFE in 2012 to give me the impetus to start again.
I have been to many workshops in the past by some very well known artists which has been wonderful, however I am mainly self taught as a painter.
Exhibitions
I have been in countless group shows since 1988 at various galleries' have received lots of commendations and the odd prize at art shows - plus the prestige of just being hung in some more exclusive art shows.
In 2001 a piece I did in a box was included in the ICEE Calendar.
Two solo shows in Sydney in 1994 and 1998.
I have had two commissions from Hodder and Stoughton to create work for books.
My art can be found in collections in Australia and overseas.
Cv will accompany any painting on request.
Press
I am in the Print Council of Australia Directory' Artists and Galleries of Australia' Max Germain and The Dictionary of Women Artists of Australia also by Max Germaine
Influences
I have been influenced by many artists over the years and of course the wonderful country we live in especially the colours in our environment.
artist
Marnie
about 1 month
artist
Julz R.
27 days ago
collector
Morgan L.
26 days ago
artist
Susannah P.
29 days ago
artist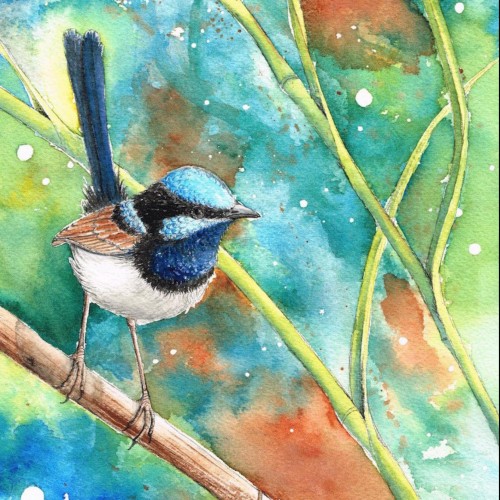 Rebecca P.
about 1 month
artist
Pamela B.
27 days ago
artist
Patricia G.
about 1 month
artist
HSIN L.
about 2 months
collector
Anna A.
about 1 month
artist
Donna W.
about 1 month
artist
Pauline J.
about 1 month
artist
Debra B.
about 1 month
Previous
Previous