About
From a very young age, I was in love with many forms of arts and crafts. Whether it was sewing, painting, drawing and even sculpture.
When I left high school I proceeded with my passion and attended 5 years through College and University in art and design in the UK, achieving high end diplomas for my work. I have also painted many murals in restaurants and kids bedrooms. I even completed a stained glass course, which was difficult but lots of fun at the same time.
From there, I moved to another direction with my career, but all the while over the years, I have still produced works of art in many forms.
Now I am getting back into the saddle, the one thing that always shines a light through my soul and adds excitement to my world is……. Creating inspiring artworks.
Every piece I produce will have a story behind it, whether it is a print or an original painted canvas.
I'm not the type of person who sticks to one technique or theme, I just create whatever stimulates me at the time. We as individuals have different styles, views and trends, so that is why I want to create a variety. I have lived in Australia for 17 years and there are so many inspiring surroundings, I have a long list of subjects that I want to apply onto a canvas or paper.
I truly hope that my artwork appeals to a large audience and that you love it enough to want to view it on your own wall, in some shape or form.
If you like some of the artworks you see, but want different colours or larger artworks, I am open to commissions and would love to create something personal.
My website https://andreams9.wixsite.com/andreamarriette
Facebook profile fb.me/MarrietteAndreaArtist
Instagram - marrietteandrea
Education
BTEC First Diploma in Art & Design
BTEC National Diploma in Art & Design
Higher National Diploma in Art & Design
All Honours for the above
Exhibitions
A few in my early years in the UK before I moved to Australia in 2000, but I am getting ready for more.
Artworks published in an International art magazine - Brush.com
​Belconnen Arts Centre - ACT - In Transit Unframed Exhibition
DAS Members exhibition NSW April 2018
Press
Recently chosen to feature in this International magazine https://www.brushmag.com
Influences
There are so many I just can't list them all.
Nature is my sole influence when painting.
artist
Donna W.
11 days ago
artist
Debra B.
2 days ago
artist
Damon L.
20 days ago
artist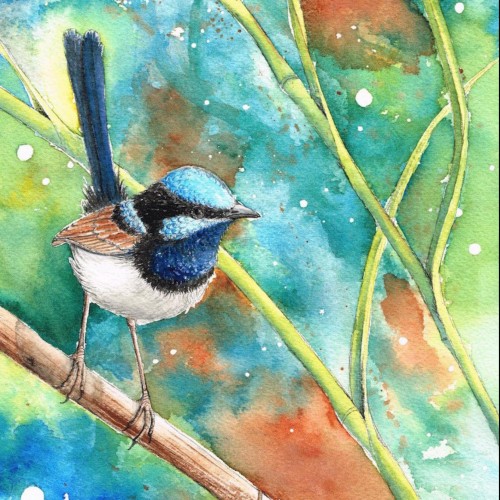 Rebecca P.
2 days ago
artist
Patricia G.
2 days ago
collector
Anna A.
9 days ago
artist
Pauline J.
10 days ago
collector
David H.
10 days ago
artist
Brad B.
17 days ago
artist
Marnie
2 days ago
artist
HSIN L.
13 days ago
artist
Jacqueline B.
17 days ago
Previous
Previous