About
I was born and grew up in Sydney but soon hit the road travelling through Asia and Europe, absorbing artistic influences . I learnt the technique of contemporary Batik painting and made many large paintings selling them at markets and expos.
I have a Masters Degree in Indonesian Contemporary Art. I was fortunate to receive a research grant from the Asian Studies Council for 12 months to live in Yogyakarta while researching the artists and their work. In total I spent nearly two years in Indonesia, mostly Bali and Yogya, inspired by the incredible talent and creativity of the contemporary artists whose work I wrote about. During that time I wrote reviews of many art exhibitions which were published in the Jakarta Post. I studied painting at the North Adelaide School of Art and enjoyed the rich diverse opportunities for exhibiting work in Adelaide. I've also written catalogue essays for artists exhibiting Adelaide and Yogyakarta.
Since moving to Melbourne in 2011 my painting has ranged from depicting many iconic locations in this city, both city and seascapes. I've been working mainly in acrylics, and have been experimenting with mixed media and layering. I love colour. A series of Japanese inspired paintings incorporate traditional themes - cherry blossoms, birds, Mt Fuji - with contemporary elements. I have a lot of experience in portrait painting and received an award for my entry in the 'Little Archies' in Bridgetown, W.A. 2007. For portraits I always work in oils. I also love charcoal and pastel on paper, a medium that allows my imagination free rein.
Education
M.A. Indonesian and Visual Arts, The Flinders University of South Australia
Advanced Diploma of Arts, Visual and Applied, North Adelaide School of Art, (now Helpmann Academy).
artist
Julz R.
27 days ago
collector
Morgan L.
27 days ago
collector
Anna A.
about 1 month
artist
Patricia G.
about 1 month
artist
Donna W.
about 1 month
artist
Susannah P.
29 days ago
artist
Marnie
about 1 month
artist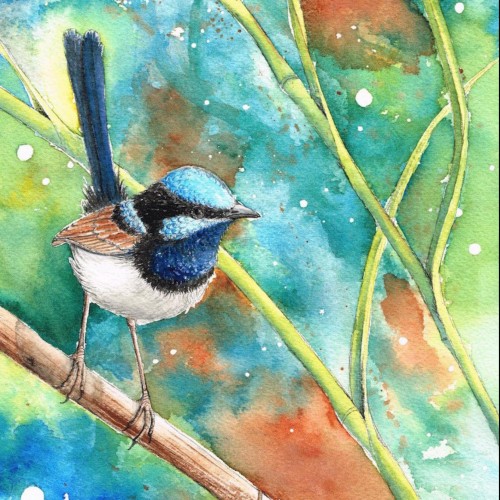 Rebecca P.
about 1 month
artist
HSIN L.
about 2 months
artist
Debra B.
about 1 month
artist
Pamela B.
27 days ago
artist
Pauline J.
about 1 month
Previous
Previous