About
Catherine Walker ,Self Taught Artist born september 22nd 1956 in Darwin, the Northern territory then living in a town called "Batchelor" ,60 miles south of Darwin for the first 7 years of my life . I was lucky enough to have the "bush" as my playground as a child growing up .. bush lifestyle gave me a definite respect for the land ,it's creatures and inhabitants and also gave me a real sense of curiosity for all things pertaining to nature and creation in general .I learned to love animals especially .I was fortunate to be able to watch some indigenous artists painting on our lounge room wall as a youngster ,this was really wonderful and inspiring and I believe this gave me my first insights into the magic of art and probably set the stage to me becoming an artist so thankyou to those aboriginal men, and my father for asking them to do art on our walls. I had a beautiful ,natural, free, sunny bush lifestyle..even if it was only for a short time in my life. I do remember the sights the sounds and the smells of the australian tropical bushlands ,and those wonderful memories will stay with me forever.I have lived in Dandenong Victoria Australia.for the past 42 years and I paint on canvas, wood, ceramics , furniture, anything that will hold some paint. My husband Robert walker a potter of almost 50 years taught me how to paint on ceramics. I went ahead with his help and won some ceramics awards in trade shows in the 80's and 90's .I've been in a small number of group exhibitions both in melbourne and sydney and have won some minor encouragement and honourable mention awards when I was in my 20's . I rarely enter art shows or have exhibitions now as the last 22 years have been very very difficult as I care for my younger son who has a disability, we have been through some major trials and traumas over that time , but have managed to see light at the end of the tunnel ...Life goes on, we do or die don't we! I have a very supportive family where my art is concerned with 4 sisters and a brother who , over the years have supplied me with canvas ,paint and brushes when times got very tough. I've had just one solo exhibition ,in a place called "The old cheese factory" in the 1990's it was a public art gallery here in victoria , a gorgeous old world looking building made of wood and stone, all so exciting and enjoyable The exhibition was a success in lots of ways . I paint the ideas, visions and memories in my mind I paint entirely from my imagination, and rarely paint in any other way , though occasionally, , I might go outside and try to paint what I see in the garden or try to paint a scene that has impressed me from a camping trip or a bush walk as nature is so inspiring and the only place where I find true peace in this strange world.I have many different styles of painting because I am self taught and use many different paints and techniques from ink to charcoal, oils and acrylics, house paint even..yes house paint is great when there is nothing else to use ! my favourite paint is matisse or Atelier Acrylic, when I can afford to buy them because of their brilliant colours and quick drying time enabling my thoughts or visions to be trapped on the canvas at lightening speed .I've been told many times that I have great originality and a diverse variation in style thankyou ! my work is my own…I don't copy at all from other peoples works and I don't reference any materials before painting . I am now 61 years old and have been painting on and off for over 40 years . My latest "batch" of paintings and my newest "sessions" have revealed some interesting ideas around angelic beings ,UFO's, aliens and some paintings of the earth and her natural beauty. I have many Interests like reading, especially a certain book called "A course in miracles" which has helped and inspired me for more than 20 years now . I also love fossicking for shells and rocks and love to gold pan at "Eldorado" victoria in the beechworth area which is a great spot and beautiful environment to be at one with nature.I am extremely interested in the UFO phenomenon and after seeing a strange light in the sky in 1993 where 7 of us were watching the sky that night , we witnessed a strange orange ball of light, like a lit craft ... this set the stage for an all consuming hobby and I watch the skies a lot these days.I have painted some UFO's and alien type creatures after witnessing this strange craft of light I am sure Aliens are already intermingling with us here on earth . I hope to make a living from what I do best and that is painting ,but you know I think that an artists path is rather a hard road to travel and sometimes the artist is sometimes not recognized as offering a valuable commodity to society , we are often thought of as either bad, mad or both ! yet Artists are pretty straight talking people and they are well grounded for the most part and add a lot of value and beauty to "Life" in the world.. ***All works shown here at Bluethumb.com by catherine walker are copyright (c) of the artist catherine walker ,nothing is to to be printed , copied, downloaded ,uploaded or used in any way without the artists permission "All rights reserved "-thankyou for your understanding. . ..and thankyou for viewing my work , I hope you enjoy some of my paintings.
Top Categories
Education
Exhibitions
Group exhibition in sydney sydney - Bridge street gallery with hand painted ceramics. solo exhibition of my paintings and ceramics "return to the forest" The old cheese factory city of Berwick 1991 .The Forge gallery Wollombi - hand painted ceramics . Clayton arts challenge 1985 , clayton arts council- gaining a very highly commended , the adjudicator was wesley penberthy 1988 " The Australian Gift of the year awards" with a range of hand painted ceramics and won the decorative Accessories Section 1989 The Australian gift of the year awards with a range of hand painted ceramics-won decorative accessories plus "runner up" to the supreme award 1990 Australian Gift of the year award- a merit 1992/93 Australian Gift guide magazine in conjunction with Thomson World Trade Exhibition in Sydney our pottery from Colourware Ceramics finally won the supreme Gift of the year award which was a $5,000 promotional package for our company at the time. Paintings exhibited at the now closed cafe " Gastronomia Chianti" Darlinghurst sydney, work exhibited and sold at darling harbour, exhibition building melbourne, sydney showgrounds, sorrento modern art gallery . Walker street gallery-"she exhibition." TheDandenong festival of music and Art for youth in 1979 an Honourable Mention and winning the A.E Wilson encouragement award the adjudicator was the late Sir Harold Freedman who was the victorian state artist at the time, this was a real honour for me even though my award was a minor one .
canning art gallery yarrawonga .River Inn gallery echuca. pottery displayed and sold at Italian restaurant" Buon ricordo ristorante" - paddington sydney paintings sold and sent to the US , canada. ceramic hand painted jugs collected in london.some paintings and ceramics sold in all states of Australia. paintings exhibited at "Gods Kitchen" in mornington,a heritage listed church built in 1876/ now a restaurant. Painting "sea goddess" hung in Panino restaurant , Wollombi Hunter valley , NSW . Thanks for viewing my work...I appreciate it and hope you enjoy my paintings !
Press
our pottery" Colourware Ceramics" hand painted ceramics featured in Queensland homes magazine, House and garden magazine ,Australia Gift guide magazine painting of my "fat ladies of cessnock" mentioned in Olives and oranges 5/5/2012 -DESTINATION AUSTRALIA: SUSAN KUROSAWA THE AUSTRALIAN"There's artwork in abundance here, too, such as Catherine Walker's whimsical portrait The Fat Ladies of Cessnock " 23/2/1993 Local company wins national award -The examiner dandenong, berwick cranbourne springvale 21/4/1992 the examiner my "return to the forest exhibition"
Influences
Nearly all artists inspire with their magic of creativity but some of these artists really stood out to me...there are many great paintings of course , and by ordinary people, not famous artists

I'd like to thank the 2 Aboriginal men ( I do not know their names) who painted on our lounge room wall in batchelor , Darwin, when I was only around 5 years old ,this was very inspiring for a child to witness...and probably set the stage for me wanting to do art...I remember animals just magically appearing on the wall, turtles, snakes, kangaroos, and lizards along with other designs and their traditional motifs..truly a great experience for any child to see this.
I'd like to thank ralph Eberlein who we fired pottery for and he painted on some of his ceramics in our colourware factory in the 90's,
he inspired me with his deft hand and the fluidity of his brush strokes...he gave me encouragement to continue with my ceramic painting.
In the 1970's and 80's we would sell our hand thrown pottery at the St Kilda Esplenade market ,I'm sure there was an artist selling his paintings
there by the name of Neil Savage and he used a spatula for painting, I thought that was pretty wonderful at the time ,
I have tried this technique a number of times though not with his skillful ability.
Hans heysen was another favourite painter of mine, when I was very young my father would show me books with his amazing
paintings of traditional australian scenes...I was in awe of how Hans Heysen made a gum tree appear so realistic and so beautiful!
another painter that my father showed me paintings of was the wonderful aboriginal artist Albert Namatjira
his paintings were so mesmerizing to me with those haunting white ghost gums, and I thought his colours were just incredible

some paintings by gauguin , some paintings by Henri Rousseau , some paintings by Loyd Reese, some paintings by vincent van gogh , Emily kame kngwarreye , I will add to this list as I remember the artists that struck me as totally awesome .
artist
Stuart E.
1 day ago
artist
Christine S.
10 days ago
artist
Daniele L.
10 days ago
collector
Rebecca F.
9 days ago
artist
Tim G.
12 days ago
artist
Margaret (.
8 days ago
artist
Natasha J.
8 days ago
artist
Tracey B.
8 days ago
artist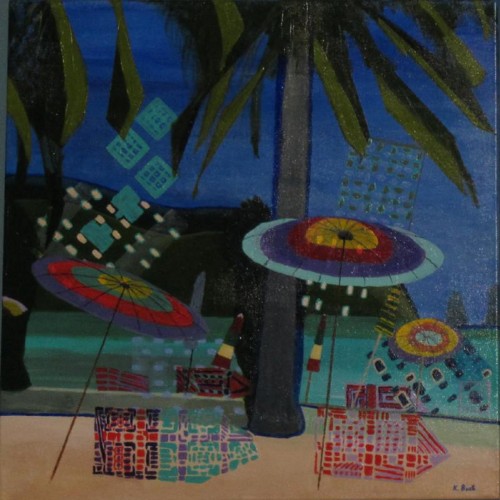 Kathy B.
12 days ago
artist
Julie S.
12 days ago
collector
Andrea D.
8 days ago
collector
Kath P.
6 days ago
Previous
Previous