About
Born February 18, 1964
Currently lives and works in Ipswich, Queensland
[email protected] | www.cjfhall.com
FB - Chris JF Hall
Chris JF Hall is an emerging artist, working primarily in acrylics. He often employs serene colours and emotive ocean landscapes in a non- representaional impressionistic manner.
His works were born from the Artists' personal experience of grief and the universal desire to
find meaning in the death of a loved one. The experience of sorrow is reflected in the oceans uncontrollable watery remoteness while the clarity of light represents the wish to transmute grief into something that can be lived with. For the observer the phenomena of pareidolia is stimulated,
being the innate human need to understand our surroundings. Thus the Reef Series represents the soul quest to make sense of life.
COLLECTIONS
Carolina Becker Saidenberg, São Paulo, BRAZIL Private Collection, Dubai UAE
Private Collection, Port Douglas QLD
Carolyn Allan, Ipswich QLD
Jacinta Harding, Ipswich QLD
Briony Allan, Ipswich QLD
Andrew and Trudy Watson, Sawtell QLD Andrew and Trudy Watson, Sawtell QLD Private Collection, Sawtell QLD
Private Collection, Maroochydore QLD Private Collection, Maroochydore QLD
Education
Studied under: Peter Cruse Brian Che
From an early age his fascination with art was evident, although a pivotal point came at the age of 8 when meeting accomplished watercolour painter Peter Cruse. Cruse provided him a model
understanding of form, composition, texture, perspective and creative process to his own work. Cruse's own artistic linage includes David Fowler, and Frances Vida Lahey.
During Chris's late teenage years he worked as
a painter and decorator for the QLD State Works Department. During that time he developed
a great and applied knowledge of surface preparation, paint types, how they are created and the art of mixing colours by hand.
Later building on his knowledge he worked as a graphic designer and finishing artist. It was during this time he meet Che, an Australian conceptual artist and modern art painter. Che provided a great insight into the themes and an understanding
of modern art. Che was also encouraging in developing his artistic practice and mindsets for creative work.
Exhibitions
EXHIBITIONS
2015 8-31 May Group exhibition, 3 Salão de Outono da América Latina. São Paulo, Brazil as a part of the 3rd Latin American Autumn Show.
2015 2 Oct-1 Nov, Blue Reefs, Primordial Wilderness solo exhibition, Sawtell NSW
2015 Dec, The Nude - Group Painting, Sawtell NSW
2015/6 27 Nov-Feb 14, State Library of Queensland, Peace & Quiet Group Exhibition
2016 17 March-22 April, Queensland Arts Council, A Handful of Ipswich Artists
Influences
Dale Frank, Brian Che, Peter Cruse
112cm (W) x 112cm (H)
Mixed Media
artist
HSIN L.
about 2 months
artist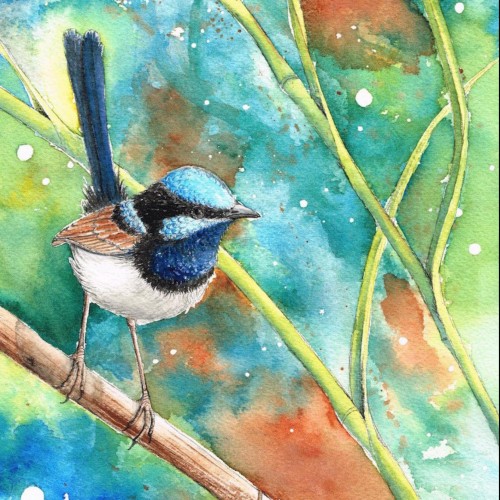 Rebecca P.
about 1 month
artist
Donna W.
about 1 month
artist
Susannah P.
29 days ago
artist
Marnie
about 1 month
artist
Julz R.
27 days ago
artist
Pamela B.
27 days ago
artist
Pauline J.
about 1 month
collector
Anna A.
about 1 month
artist
Patricia G.
about 1 month
collector
Morgan L.
27 days ago
artist
Debra B.
about 1 month
Previous
Previous