About
Art = life. My artistic output juggles themes. Normally the "scapes", female forms and the politics of the day. I believe we must make statements and not just create decorative spaces.
Education
Shelton has always painted since growing up on a dairy farm in the country. He went to Art School and Melbourne University. Where he qualified to became a Secondary College Arts and Technology teacher. This was followed by a 5 year term of Lecturing in Teaching Methodology to under-graduate art teachers. He went back to the classroom in 1982 to just teach and aspire to run the best art department in the state of Victoria.
Exhibitions
Shelton retired from the classroom in 2010 and is now working as a full-time artist .
2016 Sea Shapes by the Sea Shore Tacit Contemporary Art Gallery
2015 Cast Tacit Contemporary Art Gallery
2015 Featured Artist. Tussock Upstairs Gallery
2013 Hard Granite Soft Rock. Tacit Contemporary Art Gallery
2011 Just a painter now. Manningham Gallery
2011 Together in Harmony. Korean Cultural Centre Gallery. Seoul.
2007 Growing Grumpy Disgracefully. Manningham Gallery
2004 Trees Travel and other things. Manningham Gallery
2000 The Mountains. Chiara Goya Gallery
1998 Figurescape 98. Manningham Gallery
1997 Falling Down. Manningham Gallery
1993 Directions Where? Doncaster Council Gallery
1992 Kakadu to Cairo. Doncaster Council Gallery
1989 Paintings and Drawings. Doncaster Council Gallery
He has a very large following of clients who look forward to his very personal view on what is happening around him. Oil and gouache are his preferred mediums.
artist
Christopher J.
12 days ago
artist
Sandy W.
11 days ago
artist
Katherine A.
7 days ago
artist
Pip P.
3 days ago
collector
Carolyn R.
1 day ago
collector
Tina K.
7 days ago
artist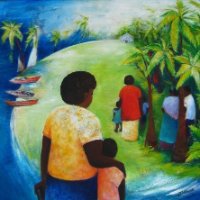 Glenise C.
10 days ago
artist
Laurie C.
3 days ago
artist
Hayley K.
9 days ago
artist
Carolyn D.
5 days ago
collector
Lorraine C.
1 day ago
artist
Jeanette G.
9 days ago
Previous
Previous