About
My art reflects the natural world which is constantly changing. Change in light, shadow and flickering movement. Change in growth, death, desire and rejection. By painting I find my absolute self connecting with nature. My head has collected many views of nature, my heart has found loneliness, grief, love and grace in nature, my hands express these feelings and experiences by making art. With a brave hand I paint my life as an interconnected being in nature.
Top Categories
Education
1991 BA Media Production' Cultural Studies. Uni of Western Sydney.2000 Dip Visual Art' CSIT Noosa.2008 Graduate Dip Edu Secondary' Film/Fine Art. Uni of Sunshine Coast.
Exhibitions
2015 to 2018 Soaring high and Bold Women and nudes and moods at The Old Railway Station Gallery Pomona. 2017 Stevens Street Gallery Yandina. 2016 #bittersweetart. Gympie Regional Gallery. 2013 "Dear Mum" ABC Open Vimeo shown at Floating Land Festival' Boreen Point. Qld . Debra Curated 25 artists showing self portraits' Me Myself and I' Carriage Gallery Pomona.2011 3rd Australian-Korean Art Exchange' Bupyeong History Museum. 2007 Totally Nude' Butter Factory Gallery' Cooroy.2006 In with the Out Crowd' sulman entry' Noosa Regional Gallery.1997 Soul Art' Noosa Regional Gallery.1995 Dreaming Nature' Netanya Hotel' Noosa.I have been represented in many galleries over the last 20 years.including Jill Reilly Art Space Eumundi.Lizzart Gallery' Montville.
Influences
Nature, Ocean, Mountains, Forest, Birds, Wendy Sharpe, Brett Whiteley , My tutors include Anneke Silver' George Gittoes, David Fairbairn' Catherine Parker and Michael Taylor.
artist
Tracey B.
7 days ago
artist
Stuart E.
4 hours ago
collector
Rebecca F.
8 days ago
collector
Andrea D.
7 days ago
artist
Margaret (.
7 days ago
artist
Christine S.
9 days ago
artist
Natasha J.
7 days ago
artist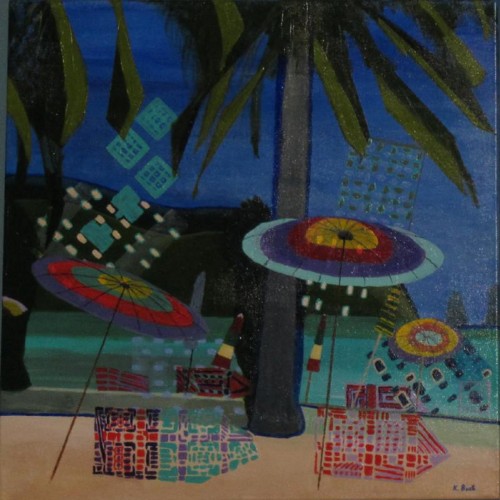 Kathy B.
11 days ago
artist
Daniele L.
9 days ago
artist
Julie S.
11 days ago
artist
Tim G.
11 days ago
collector
Kath P.
5 days ago
Previous
Previous