About
Emilie Heurtevent is an emerging artist working in mixed media painting with predominantly acrylic and ink. She grew up in Paris where Art is on every corner of the street. Her passion for painting began at a young age. Surrounded by museums and a constant turnover of exhibitions, she learned and practiced a variety of techniques, from realistic watercolours to Chinese calligraphy. It wasn't long before she began experimenting with abstracts.
Emilie's studio and home is located in North Melbourne, Australia. She shares her life with her partner Lucas and Geraldine the cat, both fantastic Art critics.
Her interest in the process of moving between a known and unknown experience is what represents Emilie's work. Change, growth and personal perception – cycles of decay and renewal – deconstruction and reconstruction are her reoccurring subjects.
Exhibitions
2018 – Black & White - Lulu Cafe & Gallery, Melbourne
2017 – Meanderings in Visual Language - No Vacancy, Melbourne
2016 – Emerging Art Australia – Inner Space Gallery, Melbourne
2016 – Infant Earth, Solo Exhibition – Pumpkin Lane Gallery, Melbourne
2015 – Chancery Lane Gallery, Adelaide
2015 – MAC Gallery, Melbourne
Influences
Where do you get your inspiration?
I paint when I get the urge. Different sounds, colours, lights, movement can trigger me. The grey of concrete in the city, the smoothness of the clouds.
How do you describe your art?
I think my work is a unique expression of the response to the world and people around me.
How do you feel when you are painting?
I'm a combination of calm and chaotic. Without any tangible idea in mind, I let my feelings flow onto the canvas. It's all about experimentation.
artist
Katherine A.
7 days ago
collector
Lorraine C.
1 day ago
artist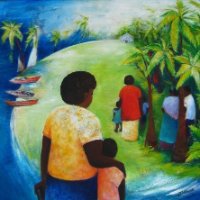 Glenise C.
9 days ago
collector
Carolyn R.
22 hours ago
artist
Christopher J.
12 days ago
artist
Carolyn D.
5 days ago
artist
Hayley K.
8 days ago
artist
Pip P.
3 days ago
artist
Laurie C.
3 days ago
artist
Sandy W.
11 days ago
collector
Tina K.
7 days ago
artist
Jeanette G.
9 days ago
Previous
Previous