About
I'm a self-taught artist and I paint whenever I get the chance.
Originally from London, I have been settled in Sydney for over a decade.
As a landscape artist I am inspired by the diversity Sydney scapes offer. From familiar landmarks to the vast and varied bush, up and down the coast and inland to the Blue Mountains, I've always got my eyes open for what could make an interesting picture.
I work mostly in water colour and some of my work is still in the experimental phase, developing larger pieces.
I use high quality Daniel Smith Water Colours, I've always been a fan of minerals and semi precious stones and to find a paint manufacturer that brings these to the palette is extremely rewarding and satisfying. I mostly use Saunders or Arches paper.
Education
Exhibitions
2018 - Sydney Royal Easter Show finalist
2017 - Hunters Hill Art Exhibition finalist
2017 - Cover Art - The Lure of Hope: On the Transnational Surrogacy Trail from Australia to India
Influences
John Constable, Paul Cezanne, impressionism, art nouveau
artist
Katherine A.
7 days ago
artist
Sandy W.
11 days ago
collector
Tina K.
7 days ago
collector
Carolyn R.
1 day ago
artist
Christopher J.
12 days ago
artist
Laurie C.
3 days ago
artist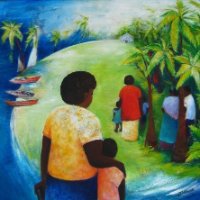 Glenise C.
10 days ago
artist
Carolyn D.
5 days ago
artist
Hayley K.
9 days ago
artist
Pip P.
3 days ago
collector
Lorraine C.
1 day ago
artist
Jeanette G.
9 days ago
Previous
Previous