About
I am a painter, printmaker, illustrator and long-time resident of Kings Cross in the (still bustling) heart of Sydney. For the past three years I have been a full-time career artist, building a substantial following with my signature large acrylic paintings and limited edition prints. Thanks to Bluethumb I can now be found in private collections all over the world, from Shanghai to Amsterdam and many places in between.
I have been fortunate enough to have worked with some outstanding graphic designers, and their guidance and expertise has also influenced my concern with the environmental context of my art, and those viewing it. Using graphic design skills, and attention to interior surroundings, I often photographs my work and place it in images of specific interiors, for a sense of how it will fit. I will happy to do the same for you, if you'd like to see how a particular artwork will look in your own space.
My father, a painter, illustrator and architect helped instill in me a wonder for all things creative, and a passion for art. I grew up painting and drawing under his tutelage, before the days of iPads and computers. My current work embodies the zest for colour and texture that inspired my previous 30-year career as a textile and fashion designer. I have always loved movement and colour – particularly the interplay of colour in nature – I strives to bring these qualities to my work for an affect which is very alive, yet also calming. Weather, especially rain and wind, are an ever-present influence and muse.
As a gay man I also celebrates how far we have come with equality. Some of my work explore past and present LGBTQI themes.
Education
Diploma of Fashion Design and Technology
Industry Training in Textile design
Industry Training in Graphic Design
Textile designer for 30 years
Exhibitions
2016 'Cross Pollination' exhibition at Guerilla Gallery
2016 'Perception' exhibition at Guerilla Gallery
2017 'Stage Three' exhibition at George Hall Pop Up Gallery
Influences
Joan Mitchell, Juan Gris, Gordon Smith and many many more
artist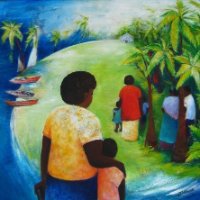 Glenise C.
9 days ago
artist
Carolyn D.
5 days ago
artist
Christopher J.
12 days ago
collector
Carolyn R.
19 hours ago
artist
Jeanette G.
9 days ago
artist
Pip P.
3 days ago
artist
Hayley K.
8 days ago
artist
Katherine A.
7 days ago
collector
Tina K.
7 days ago
artist
Sandy W.
11 days ago
collector
Lorraine C.
24 hours ago
artist
Laurie C.
3 days ago
Previous
Previous