About
Helen is a self taught artist who thrives on variety and a challenge. She has been painting for over 35 years and her passion for colour, whether it be vibrant or subdued, is very evident in her work. She works with pastel, acrylic, watercolour and mixed media, and her subject matter is wide and varied. Helen has taught painting professionally and privately over many years and her commitment and enthusiasm for art is revealed in her involvement in a number of art societies and committees. A recent highlight in her career was being awarded the honour of becoming a Signatory Member of Australian Guild of Realist Artists. Demonstrations, articles and images of her work have been published in the Artists Palette Magazine, Australian Artist Magazine and Victorian Pastel Society Magazine. Helen displays and sells from her home studio, many regional art shows throughout Victoria and private galleries - to date she has won over 120 awards, prizes and commendations. Her work hangs in private collections around Australia along with many countries throughout the world.
Exhibitions
My work and three other members of the KILMORE ART SOCIETY will be hanging work at the INTERNATIONAL MELBOURNE FLOWER & GARDEN SHOW in the Exhibitions Buildings and Carlton Gardens on Wednesday 21st March to Sunday 25th March. Hours are 9am - 5pm except on the Friday when the exhibition will be open until 9pm. It would be great if some of the Bluethumb gang could come along - hope to see you there!
Press
I have an eight page article and pastel demonstration in the June 2016 edition of the Australian Artist Magazine. Another one is to be published showing my watercolour, acrylic and mixed media works at a later date.
artist
Donna W.
14 days ago
artist
Marnie
6 days ago
collector
David H.
13 days ago
artist
HSIN L.
16 days ago
artist
Damon L.
24 days ago
artist
Patricia G.
6 days ago
artist
Debra B.
6 days ago
artist
Jacqueline B.
21 days ago
artist
Pauline J.
13 days ago
artist
Brad B.
21 days ago
artist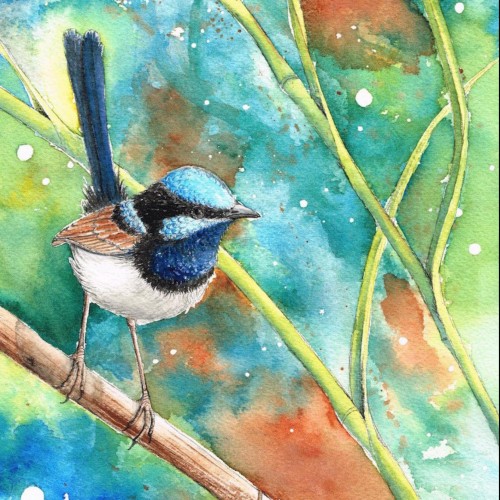 Rebecca P.
6 days ago
collector
Anna A.
13 days ago
Previous
Previous