Note; the work is unframed but the last photograph indicates how the work would look framed
Welcome to my Bluethumb page dedicated to my animals and landscapes on paper
I am a professional artist exhibiting my work since 1986
I am represented by Jackman Gallery, Hawthorn Gallery and Kazari Gallery in Melbourne and Metropolis Gallery in Geelong
I have been a finalist in the Waterhouse Natural Science Art Prize on four occasions, the Maritime Art Prize three times and the Norvill and Heysen Prizes once each
My work was published in New Art 5
I have held 13 Solo Exhibitions and participated in many group shows
I see my work as high quality investments works and continue to create new work everyday
John Graham
Solo Exhibitions
2017 John Graham - Paintings BMG Art Adelaide
2015 Persona Celebrity Public Deakin University, Melbourne Burwood Campus
2014 Inspirations, Hawthorn Gallery and Studio, Melbourne
2013 Birds, Yering Station Gallery, Yarra Glen
2012 A Cat Called China and Other Paintings, Yering Station Gallery, Yarra Glen
Natural Order, Louey and Lane Gallery, Melbourne
Birds and Landscapes, Qdos Gallery, Lorne
2011 Landscapes, Gadfly Gallery, Perth
Paintings2011, Hawthorn Gallery and Studio, Melbourne
2009 On the Wing, Without Pier Gallery, Melbourne
Wild at Heart, Gadfly Gallery, Perth
Pieces of Me, Greenhill Gallery, Adelaide
2006 Transitional Landscapes, Gallery One/Five Sons Estate Melbourne
2005 Elemental Landscapes, Kazari Gallery, Melbourne
2004 From The Wilderness, Collins Street Gallery, Melbourne
1996 Icons, Idols, Effigies and Fetishes, Scope Gallery, Melbourne
1995 Mamawata. Scope Gallery, Melbourne
1994 Paintings And Sculpture, Botanical Gallery, Melbourne
1993 Paintings From The Road, Botanical Gallery, Melbourne
Group Exhibitions
2017 Original Art Under $1000 - Art to Art Melbourne
6x6 Metropolis Gallery Geelong
Birds Bugs and Beasties - BMG Art Adelaide
2016 Summer Show, Hawthorn Studio and Gallery, Melbourne
Coolart, Without Pier, Melbourne
Camberwell Art Show. Melbourne
Pop Up, Art To Art Gallery, Melborne
Birdhaus, Birds Gallery, Melbourne
2015 Group Show, Hawthorn Studio and Gallery, Melbourne
Epiphany, Tusk Gallery, Melbourne
Works on Paper, Without Pier, Melbourne
2014 Group Show, Hawthorn Studio and Gallery, Melbourne
Urban Country stock room show, Jackman Galllery, Melbourne
Maritime art prize, Mission to Seafarers, Melbourne
2013 Maritime art prize, Mission to Seafarers, Melbourne
Group Show, Jackman gallery, St Kilda
2012 Maritime art prize, Mission to Seafarers, Melbourne
2010 Group Show, Hawthorn Studio and Gallery, Melbourne
2009 Kazari 2009, Kazari Gallery, Melbourne
Mansfield 2009 Easter Art Exhibition
The Wish List Greenhill Gallery, Adelaide
Postcard Christmas Show Without Pier Gallery, Melbourne
2008 Art Melbourne, Seaview Gallery
Stockroom Exhibition, Pivotal Galleries Melbourne
The Good Earth, Greenhill Gallery, Adelaide
The Heysen Prize Finalist, The Hahndorf Academy, South Australia
2004 New Collectables, Gadfly Gallery, Perth
Norvill Art Prize, Murrurundi, N.S.W
2003 Kazari Gallery Presents New Work by Artists, Kazari Gallery, Melbourne
2000 Christmas Show, Helen Gory Gallery, Melbourne
1997 Art In Time, Christies. South Yarra, Melbourne
1995 Christmas Show, Scope Gallery, Melbourne
1993 5th Anniversary Show, Robb Street Gallery, Bairnsdale
Artists Candelabra, Melbourne Theatre Company Ball, The Hyatt, Melbourne
Summer 1993, Botanical Gallery, Melbourne
1991 New Art 5, Coventry Gallery, Sydney
1990 A Young Collector's Exhibition, Coventry Gallery, Sydney
Greenpeace Fundraising Show, Linden Gallery, Melbourne
1989 Melbourne Painters, Robb Street Gallery, Bairnsdale
15 Shopping days to Christmas, Coventry Gallery, Sydney
1986 Winter Collection, Rumbarellas Gallery, Melbourne
9x5 Show, Rumbarellas Gallery, Melbourne
Prizes and competitions
2017 Finalist Maritime art prize, Mission to Seafarers Victoria Melbourne
2016 Finalist The Waterhouse Prize 2016, Finalist, South Australian Museum
2014 Finalist Maritime art prize, Mission to Seafarers Victoria Melbourne
2013 Finalist Maritime art prize, Mission to Seafarers Victoria Melbourne
2012 Finalist Maritime art prize, Mission to Seafarers Victoria Melbourne
2007 Finalist The Waterhouse Natural History Art Prize 2007, Adelaide
2006 Finalist The Waterhouse Prize 2006, Finalist, South Australian Museum
2005 Finalist The Waterhouse Prize 2005, Finalist, South Australian Museum
Finalist The Heysen Prize Finalist, The Hahndorf Academy,South Australia
2004 Finalist Norvill Art Prize, Finalist, Murrurundi, N.S.W
Commissions
2017 Avant Cards "Gould Finch"
2016 Avant Cards "Kangaroos"
2008 Avant Cards "Feral Cat in Rosebush (ladder of thorns)"
2002 The Ink Group; "The Blue Band" Card published
Bibliography
1991 Dury, Neville. Editor, New Art 5
Mixed media and collage on 220 gram paper by well known and collected both nationally and internationally artist John Graham
DESCRIPTION
Note; the work is unframed but the last photograph indicates how the work would look framed
Welcome to my Bluethumb page dedicated to my animals and landscapes on paper
I am a professional artist exhibiting my work since 1986
I am represented by Jackman Gallery, Hawthorn Gallery and Kazari Gallery in Melbourne and Metropolis Gallery in Geelong
I have been a finalist in the Waterhouse Natural Science Art Prize on four occasions, the Maritime Art Prize three times and the Norvill and Heysen Prizes once each
My work was published in New Art 5
I have held 13 Solo Exhibitions and participated in many group shows
I see my work as high quality investments works and continue to create new work everyday
John Graham
Solo Exhibitions
2017 John Graham - Paintings BMG Art Adelaide
2015 Persona Celebrity Public Deakin University, Melbourne Burwood Campus
2014 Inspirations, Hawthorn Gallery and Studio, Melbourne
2013 Birds, Yering Station Gallery, Yarra Glen
2012 A Cat Called China and Other Paintings, Yering Station Gallery, Yarra Glen
Natural Order, Louey and Lane Gallery, Melbourne
Birds and Landscapes, Qdos Gallery, Lorne
2011 Landscapes, Gadfly Gallery, Perth
Paintings2011, Hawthorn Gallery and Studio, Melbourne
2009 On the Wing, Without Pier Gallery, Melbourne
Wild at Heart, Gadfly Gallery, Perth
Pieces of Me, Greenhill Gallery, Adelaide
2006 Transitional Landscapes, Gallery One/Five Sons Estate Melbourne
2005 Elemental Landscapes, Kazari Gallery, Melbourne
2004 From The Wilderness, Collins Street Gallery, Melbourne
1996 Icons, Idols, Effigies and Fetishes, Scope Gallery, Melbourne
1995 Mamawata. Scope Gallery, Melbourne
1994 Paintings And Sculpture, Botanical Gallery, Melbourne
1993 Paintings From The Road, Botanical Gallery, Melbourne
Group Exhibitions
2017 Original Art Under $1000 - Art to Art Melbourne
6x6 Metropolis Gallery Geelong
Birds Bugs and Beasties - BMG Art Adelaide
2016 Summer Show, Hawthorn Studio and Gallery, Melbourne
Coolart, Without Pier, Melbourne
Camberwell Art Show. Melbourne
Pop Up, Art To Art Gallery, Melborne
Birdhaus, Birds Gallery, Melbourne
2015 Group Show, Hawthorn Studio and Gallery, Melbourne
Epiphany, Tusk Gallery, Melbourne
Works on Paper, Without Pier, Melbourne
2014 Group Show, Hawthorn Studio and Gallery, Melbourne
Urban Country stock room show, Jackman Galllery, Melbourne
Maritime art prize, Mission to Seafarers, Melbourne
2013 Maritime art prize, Mission to Seafarers, Melbourne
Group Show, Jackman gallery, St Kilda
2012 Maritime art prize, Mission to Seafarers, Melbourne
2010 Group Show, Hawthorn Studio and Gallery, Melbourne
2009 Kazari 2009, Kazari Gallery, Melbourne
Mansfield 2009 Easter Art Exhibition
The Wish List Greenhill Gallery, Adelaide
Postcard Christmas Show Without Pier Gallery, Melbourne
2008 Art Melbourne, Seaview Gallery
Stockroom Exhibition, Pivotal Galleries Melbourne
The Good Earth, Greenhill Gallery, Adelaide
The Heysen Prize Finalist, The Hahndorf Academy, South Australia
2004 New Collectables, Gadfly Gallery, Perth
Norvill Art Prize, Murrurundi, N.S.W
2003 Kazari Gallery Presents New Work by Artists, Kazari Gallery, Melbourne
2000 Christmas Show, Helen Gory Gallery, Melbourne
1997 Art In Time, Christies. South Yarra, Melbourne
1995 Christmas Show, Scope Gallery, Melbourne
1993 5th Anniversary Show, Robb Street Gallery, Bairnsdale
Artists Candelabra, Melbourne Theatre Company Ball, The Hyatt, Melbourne
Summer 1993, Botanical Gallery, Melbourne
1991 New Art 5, Coventry Gallery, Sydney
1990 A Young Collector's Exhibition, Coventry Gallery, Sydney
Greenpeace Fundraising Show, Linden Gallery, Melbourne
1989 Melbourne Painters, Robb Street Gallery, Bairnsdale
15 Shopping days to Christmas, Coventry Gallery, Sydney
1986 Winter Collection, Rumbarellas Gallery, Melbourne
9x5 Show, Rumbarellas Gallery, Melbourne
Prizes and competitions
2017 Finalist Maritime art prize, Mission to Seafarers Victoria Melbourne
2016 Finalist The Waterhouse Prize 2016, Finalist, South Australian Museum
2014 Finalist Maritime art prize, Mission to Seafarers Victoria Melbourne
2013 Finalist Maritime art prize, Mission to Seafarers Victoria Melbourne
2012 Finalist Maritime art prize, Mission to Seafarers Victoria Melbourne
2007 Finalist The Waterhouse Natural History Art Prize 2007, Adelaide
2006 Finalist The Waterhouse Prize 2006, Finalist, South Australian Museum
2005 Finalist The Waterhouse Prize 2005, Finalist, South Australian Museum
Finalist The Heysen Prize Finalist, The Hahndorf Academy,South Australia
2004 Finalist Norvill Art Prize, Finalist, Murrurundi, N.S.W
Commissions
2017 Avant Cards "Gould Finch"
2016 Avant Cards "Kangaroos"
2008 Avant Cards "Feral Cat in Rosebush (ladder of thorns)"
2002 The Ink Group; "The Blue Band" Card published
Bibliography
1991 Dury, Neville. Editor, New Art 5
artist
Frank B.
3 days ago
"collector 10, artist; I'm yet to sell something...."
collector
Louise O.
7 days ago
"Easy access to art from many different artists (especially for someone like me who knows nothing about art but likes to have art hanging on the walls). Easy to purchase art i.e. the process is easy. Able to view other pieces by an artist. Can commission a piece from an artist."
artist
Connie K.
7 days ago
"Very professional"
artist
Syl H.
4 days ago
"This is a well organised site, easy to use."
collector
Gail G.
7 days ago
" Large variety of art. Easy website to use"
artist
sky t.
2 days ago
"I love to give 10 out of 10. Although I didn't sold any artwork still but I love bluethumb."
artist
Lesley T.
6 days ago
"Bluethumb has such an enormously wide range of art... a wide range of genres and a wide range of prices... and they have a Jack Russell office dog "
artist
David C.
5 days ago
"Because it is a simple process, no upfront fees, and Bluethumb do all the work. However the commission does hurt, especially with freight of larger pieces."
artist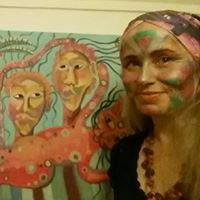 Bronny D.
5 days ago
"I do recommend bluethumb."
artist
Bronwyn M.
6 days ago
"Easy to use website and it's the only website I've managed to sell anything from."
artist
christopher d.
3 days ago
"Because you help struggling artists and your effecient"
collector
Jeff F.
4 days ago
"Fabulous art !!"
Previous
Previous
FREE SHIPPING & INSURANCE
Bluethumb takes care of everything from artist's studio to your door, so your precious artwork arrives quickly and safely. We'll notify you via email of the sale, and will include your tracking number once picked up by our couriers.
On average it takes 10 days for a painting to arrive. Once you input your post code, we'll give you a more accurate estimated delivery time for your artwork.
We also have 7 day free returns ... Happy collecting.
7 DAY FREE RETURNS
You have a full week (7 days) from the time you receive an artwork to decide if you would like to return it.
No questions, no hassles and Bluethumb will pay for the cost to return your purchase to the seller up to a maximum of $100.
Embed Artwork Image
Add this artwork to your site by copying the code below