About

BA Visual Arts degree UWS Nepean 1990 - 93 Painting Major .
Recipient of William Fletcher Trust grant
Various group and solo shows Australia, Sydney, Brisbane, Perth, Melbourne and Paris,
Various collections Australia, UK, France, USA
Selected reviews Sydney Morning Herald, The Australian, The Sydney Daily Telegraph
(Sebastian Smee, Joanna Mendelssohn, Bruce James, Anne Loxley, Courtney Kidd and others.)
Paris 2006 - 2011
My current art practice encompasses my obsession with collage."
Follow me on Instagram @lovewalkinginsnow
Education
BA Visual Art – University of Western Sydney - Nepean
Exhibitions
SELECTED EXHIBITIONS
SELECTED SOLO SHOWS
2001 "Soft Touch" Gallery 4a, Asian Australian Art Gallery, Sydney
2000 "Some days are diamond, some days are gold" Casula Powerhouse, Sydney
1999 "Balancing Act" University of Western Sydney, Nepean, Sydney
1999 "Striving for the unobtainable order..." The Performance Space, Sydney
SELECTED GROUP SHOWS
2018 Finalist "Mission to Seafarers Maritime Exhibition", Melbourne
2018 "The Collage Garden Moscow'
2018 "Artobotic" Edinburgh Art Centre. Scotland
2018 "Edinburgh Collage Collective Vinylism" Tent Gallery. Edinburgh. Scotland
2018 "The Collage Garden New York", New York, USA
2018 "A4 Show" Victorian Contemporary Art Society, Melbourne
2017 "The Collage Garden", Leidsenhage, Netherlands
2017 Finalist "Fisher's Ghost Art Prize, Cambelltown Arts Centre, Sydney
2017 "9 by 5" .Walker Street Gallery, Melbourne
2017 Finalist "Mission to Seafarers Maritime Exhibition", Melbourne
2017 Finalist "Swap" Sustainable Waste to Art" Ryde Council
2017 "Pop up Posters" Woollarha Council -Paddington
2017 "A4 Show" Victorian Contemporary Art Society, Melbourne
2016 "Silver" Whitlam Institute, Female Orphan School, Parramatta
2011 "WICE" Paris France
2010 "WICE" Paris France
2008 "Bent Western" Blacktown Regional Gallery, Sydney
2007 "Art +Humour too" Brenda May Gallery, Sydney
2006 "Railway Clearways Conference", Sydney
2006 "Walking the Streets" Newtown, Sydney (Winner People's Choice Award)
2006 "The Great Escape", Sydney
2005 "Sculptured", Penrith Regional Gallery, Sydney
2003 "Boofheads and Scrubbers Revenge", Penrith Regional Gallery, Sydney
1999 "Out Art", Tin Sheds Gallery, Sydney
1998-00 "Cars and Culture - Our Driving Passions", Powerhouse Museum, Sydney
1998 "Women's Labour", Blue Mountains Women's Health Centre, Katoomba
1998 "Girlfriends...(and a few good blokes)",Casula Powerhouse, Sydney
1997 "Love letters to John McDonald" 151 Regent Street Gallery, Sydney
1997 "Read my lips" Fremantle Regional Art Gallery, Fremantle, WA
1997 "How much do you love me" 151 Regent Street Gallery, Sydney
1996 "Parking" Casula Powerhouse, Sydney
1996 "Open" 151 Regent Street Gallery, Sydney
1995 "Off the Walls" Casula Powerhouse, Sydney
1994 "These Passions" Casula Powerhouse, Sydney
1993 "National Graduate Show" Museum of Contemporary Art, Perth, WA
1993 "Out of Bounds" Wentworth Falls School of Arts, Blue Mountains, NSW
1993 "Mary Alice Evatt Award" Campbelltown Regional Art Gallery,
1992 "National Student Show" Exhibition Building, Melbourne, VIC
1991 "Voyages" Queensland University of Technology, Brisbane, QLD
1990 "Group Show" Fairfield Arts Centre, Sydney
1990 "As one" Joan Sutherland Performing Arts Centre, Penrith
COLLECTIONS
The Liverpool Collection – Liverpool Council
Nepean Collection,
University Of Western Sydney The Vice Chancellors Collection,
University Of Western Sydney
Various private collections in Australia, UK and US
GRANTS
William Fletcher Trust Grant
Press
https://www.instagram.com/lovewalkinginsnow/
SELECTED REVIEWS AND PUBLICATIONS "Critics Picks", Metro, The Sydney Morning Herald, January 7, 2006 Cathy Pryor, "Drawing on the dark side of suburbia", page 15, The Australian, August 1, 2003 Joanna Mendelssohn, "All round country", pg 15, The Australian, Aug 8,2003 Anne Loxley, "Confronting the stereotype with defiance and affection",pg.16, The Sydney Morning Herald, August 14, 2003 Bruce James, "Taming of the Lewd", Spectrum, pg. 13 The Sydney Morning Herald, March 3, 2001 Courtney Kidd, "Critics Picks", pg. 27, The Sydney Morning Herald, Feb 23, 2001 Victoria Hynes, "Female Forms", pg. 26, The Sydney Morning Herald, Feb 23, 2001 Sebastian Smee, "Hey Good Looking", pg. 18, The Sydney Morning Herald, Feb 9, 2001 Courtney Kidd, "Galleries", pg. 13, The Sydney Morning Herald, June 13, 2000 Joanna Mendelssohn, "Parking", pg 43, The Australian, Jan 24, 1997 "Sex is in the Air, even museums are swinging", pg. 3 The Sydney Morning Herald, Dec 20, 1996 "Paradise by the dashboard light", pg. 15, The Sydney Morning Herald, Dec 20, 1996 "Pulled over for Passion", pg. 43, The Daily Telegraph, Dec, 1996 Charles Pickett, Cars and Culture, our driving passions, Harper Collins, Sydney, 1998, pg. 35. COLLECTIONS The Liverpool Collection – Liverpool Council Nepean Collection, University Of Western Sydney The Vice Chancellors Collection, University Of Western Sydney Various private collections in Australia, UK and US GRANTS 1992 William Fletcher Trust Grant
Influences
I currently live in Sydney Australia and after living in Paris, France for a number of years try to regularly return to Paris to produce work.
I finished my degree in fine arts with a major in Painting thirty years ago however have always embraced the intimacy of smaller 3D pieces/mixed media. I have an obsession with and adore the process of collage. The intimacy and quiet (and perhaps domestic nature) of cutting and pasting a pastiche of images to re-imagine new work to tell a story.
I dispute the notion that the personal and private in artmaking is self seeking or immature and use my personal experience as a starting point to make art. A little like taking cuttings to reproduce from a personal garden.
I love using and recycling old vintage papers and vintage magazines primarily from the 1950s and1960s and currently vintage French fashion magazines - the ephemeral and the discarded. That which is fleeting/passing/transitory and impermanent.
My current body of work involves a reworking and recognition of Manet's 'Olympia and 'the gaze'. My Olympia women (currently six in the series) are black and white products of the 50s and 60s domestic sphere - challenging and questioning their enforced role of the times being celebrated and glorified - surrounded by a halo and riot of lush nature - that defiantly meet the viewer's gaze.
artist
Hayley K.
10 days ago
artist
Jeanette G.
11 days ago
artist
Pip P.
5 days ago
artist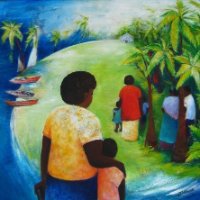 Glenise C.
11 days ago
artist
Laurie C.
5 days ago
artist
Sandy W.
13 days ago
artist
Carolyn D.
7 days ago
artist
Katherine A.
9 days ago
collector
Lorraine C.
3 days ago
artist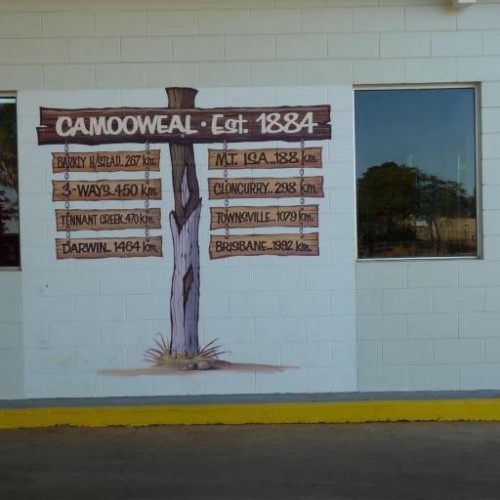 Virginia M.
22 hours ago
collector
Tina K.
9 days ago
collector
Carolyn R.
3 days ago
Previous
Previous