About
Hi - Thanks for checking out my art.
I am an Australian Artist who loves creating acrylic and mixed media abstracts, semi abstracts, cubism and contemporary pieces based on observation of the world around me. As you can see, I particularly like colour, texture, movement and geometry. I'm addicted to painting, have a need to paint, and I want to put my work out there for all the world to see. To view more of the processes undertaken to create my works follow me on Instagram or Facebook. I hope you enjoy my works as much as a I enjoy creating them. Once again thanks for looking.
Education
I have been painting consistently with my local art group since around 2008 under the guidance of many tutors. I also attend multiple weekly tutored classes and full day workshops and I am continuously learning and thinking of new ideas.
Exhibitions
Exhibits regularly at art shows including Life Abstracted (Cambridge Studio Gallery), Decoy Cafe in Exhibition Street, Melbourne International Flower and Garden Show, Camberwell Art Show, Whitehorse Art Show, Linden Postcard Show, Brunswick Street Gallery Small Works, Box Hill Art Group Mid Year Exhibition (2016 Best in Show), Box Hill Art Group Annual Exhibition (Highly Commended, judged by Jo Reitze), Hawthorn Artists Society, Contemporary Arts Society, A4 Australia, Art at Burnley, Robert McCubbins Primary School and Art Space at City of Whitehorse. I also lease works to Colour Space for installation in office's and other Melbourne locations.
Press
Herald Sun Leader newspaper, 6 March 2014, "Social media meet up Inspires artists' Kew Exhibition"
Herald Sun Leader newspaper, 25 June 2017, Kathy's painted traffic signal box "Splash of Street Colour"
Influences
Surrounded by influences, observing the world 24/7.
artist
Brad B.
22 days ago
artist
Marnie
7 days ago
artist
Debra B.
7 days ago
artist
Donna W.
15 days ago
collector
David H.
15 days ago
artist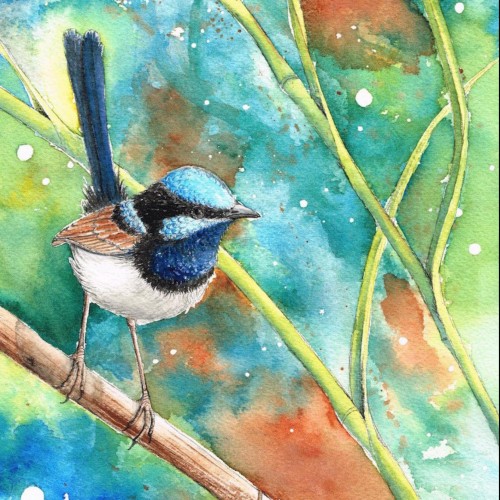 Rebecca P.
7 days ago
artist
Jacqueline B.
22 days ago
artist
Pauline J.
15 days ago
artist
Damon L.
25 days ago
artist
Patricia G.
7 days ago
collector
Anna A.
14 days ago
artist
HSIN L.
18 days ago
Previous
Previous