Finalist
About
Amanda Krantz is an Australian artist whose work has been informed by residencies in Japan, Thailand and Tasmania. Her practice is an exploration of materials, science and nature, and image making. She completed her Bachelor of Visual Arts at Queensland University of Technology in 2001, and has since continued study at the University of Melbourne solely to inform her arts practice. Her most recent projects include a large scale public commission for The Ritz Carlton in Puerto Rico, artwork for the Presidential Suite of Renaissance Plano in Texas, and she was also commissioned to create 10 large paintings for The Ovation of the Sea, a new Royal Carribean liner that has been dubbed the contemporary art gallery of the high seas. She was also recently one of thirty painters worldwide to take part in 'Premio Combat' in Livorno Italy, was a Saatchi Online'Back to Nature' finalist, and a finalist in the prestigious Clifton's Art Prize. Krantz's most recent solo show 'Plasmo', held in 2015 at the GallerySmith in Melbourne, was an exploration of alien yet eerily familiar forms and landscapes. Other solo shows include 'Hypnagogia' at the Angela Robarts-Bird Gallery in Melbourne, Graydon Gallery and Percolator Gallery in Brisbane, and she has been involved in group exhibitions worldwide including Time Square in New York city, and in the Museo Di Storia Naturale in Italy. Current Artist Statement: I think of my work as organic-psychedelia. They are familiar representations of ecology, but not quite of this world. My process is underpinned by a playful exploration of materials, and questions the role of painter in painting creation. The method of paint delivery to canvas, in random pours, throws and squirts, employs nature to mimic nature. The natural fluidity and reactivity of paint mixtures, is itself alive in it's own ability to move and mix, playfully creating chaotic patterns and diacritic effects. I often act merely as a facilitator, allowing the paint itself to capture the essence of time and place. It's a scientific process, executed organically, creating science fictional landscapes and quasi-alien life
Top Categories
Education
2000 Bachelor of Visual Arts' QUT (Queensland University of Technology)
Exhibitions
2017 Public Commission, The Ritz Carlton, Puerto Rico; 2017 Commission for Renaissance Plan (Presidential Suite), Texas, USA; 2016 Public Commission for Ovation of the Sea, Royal Caribbean Liners; 2016 Finalist Bluethumb Art Prize; 2016 Finalist Noosa Art Prize, Noosa, Australia; 2016 'Gelato' Traffic Jam Gallery, Sydney; 2015 Japan, Kyoto residency with Master Ukiyo-e, 2015 'Plasmo' (solo) GallerySmith Project Space, Melbourne; 2014 Premio Compat Prize Finalist, Livorno, Italy; 2014 'Premio Combat' Museo Di Storia Naturale & Museo Civico G.Fattori, Livorno, Italy 2014 'Hypnagogia' Gasworks Arts Park, Albert Park, Melbourne; 2014 'The Comfort Zone' Midsumma Festival, Gasworks, Melbourne; 2013 RAW Translations, Melbourne; 2013 Saatchi Online Finalist 'Back to Nature'; 2012 'Art Takes Time Square', New York City; 2012 Clifton's Art Prize Finalist; 2012 'Rickshaw madam?' Graydon Gallery, New Farm, Brisbane; 2012 Residency ComPeung Artist Village, Doi Saket, Thailand; 2011 Highly Commended, Gainsborough Greens, Gold Coast; 2011 'Garden Variety' Percolator Gallery, Paddington, Brisbane; 2010Artist in Residence, December, Borders, Brisbane City.
Press
The Magical Amanda Krantz in Molten Store, by Jessie Cameron, March 2016
Unveiling Contemporaries by Petra Nicel' March 2015
Another young painter worth her weight in gold Barbara Heath Wordpress' by Malcome Enright' september 2011
Strange Reactions Quest News' July 2012
Influences
Nature' science' fiction' science-fiction' art' artists' alchemy
artist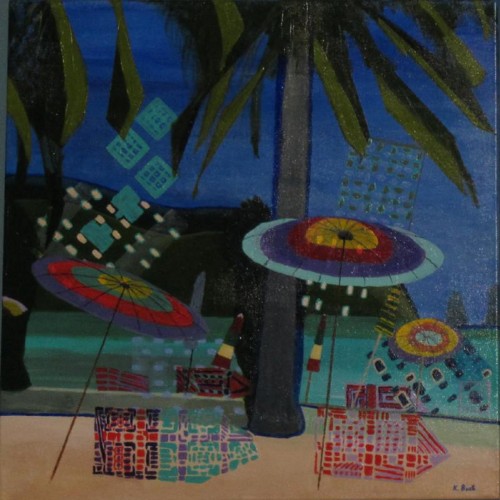 Kathy B.
11 days ago
artist
Tim G.
11 days ago
artist
Natasha J.
8 days ago
artist
Tracey B.
8 days ago
artist
Christine S.
10 days ago
collector
Andrea D.
8 days ago
artist
Margaret (.
7 days ago
collector
Rebecca F.
9 days ago
artist
Daniele L.
10 days ago
collector
Kath P.
6 days ago
artist
Stuart E.
16 hours ago
artist
Julie S.
12 days ago
Previous
Previous