About
I am a Blue Mountains Artist from Wimalee NSW, Australia. From the moment I could hold a crayon I have been drawing and painting. Love of art is in my blood as my Mother is also an Artist. Although my Mother went through Art School, I am self taught and have developed my own distinctive style over many years based on my passion for colour, pattern, texture and my own vivid imagination.
Rather than following my passion for art, to please my family I did the 'sensible' thing after high school and went into a long corporate career, which lead to running several successful businesses, none of which related to art. It wasn't until late 2009, after lower back surgery that I turned to art again during a long recovery period. I found that my ability was still there and art again became an essential part of my life. I started to draw and paint and put my work out on social media where it sold.
In 2011 my life fell apart, my Husband had a breakdown from work stress and my only Son was diagnosed with terminal brain cancer (Glioblastoma Multiforme stage 4). The ONLY thing I did when I was not caring for my Son was draw and paint. It became my therapy and my way to not loose my mind from grief and depression. When my outer world was grey and sad, a canvas and paint could let me find my inner joy again. It saved me and lead me to my art career.
I am blessed that many of my original paintings and prints grace Art Collections, Homes and Offices around the world. I have also achieved commercial success with Art Licensing to both Australian and International companies.
Over the years, I have participated in numerous group and solo art exhibitions, including one at The Pine Street Gallery, Chippendale, Sydney that was featured in The Sydney Morning Herald's Spectrum Section in 2013. That same year I was included in the 'Undiscovered' feature of Art Collector Magazine and included in Art Edit. Recently I was a Featured Acrylic Artist on Empty Easel.
I became a Bluethumb Featured Artist on 1 Feb 2018 which is an honour among so many talented creatives. I hope you find something that resonates with you in my Portfolio. Thank you so much for taking the time to read about me and browse my Original artworks for sale here on Bluethumb.
Education
I am a self taught artist.
Exhibitions
Previous Exhibitions:
The Tap Gallery 'Inside Out' Exhibition, Sydney 2011, Solo Exhibition The Pine Street Gallery Chippendale 2013(*Featured in The Sydney Morning Herald Spectrum). Selected for Exhibition at Parliament House 2013. Solo Exhibition Old Block Art Gallery Faulconbridge 2013, 2014 & 2015, Solo Exhibition Du Moulin Art Gallery Annandale 2016, Blue Mountains Heritage Centre Art Gallery 2016 & 2017. Various other group exhibitions in Sydney and the Blue Mountains. Solo Exhibition: 5 February to 11 March 2018 The Arthouse Gallery. The Blue Mountains Arts Trail no.1 2018 April / 1 & 2 September 2018.
Press
'Undiscovered feature' Art Collector Magazine 2013, The Sydney Morning Herald Spectrum 2013.
EmptyEasel.com Featured Acrylic Painter Article 27 August 2018.
Influences
I am very influenced by colour, trees, flowers, plants, natural shapes and mark-making/patterns. Famous artists I admire include Klimt, Frida Kahlo, Kandinsky, Klee and Laurel Birch.
collector
Carolyn R.
22 hours ago
artist
Hayley K.
8 days ago
collector
Tina K.
7 days ago
artist
Katherine A.
7 days ago
artist
Pip P.
3 days ago
collector
Lorraine C.
1 day ago
artist
Jeanette G.
9 days ago
artist
Carolyn D.
5 days ago
artist
Christopher J.
12 days ago
artist
Laurie C.
3 days ago
artist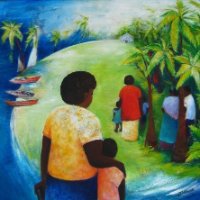 Glenise C.
9 days ago
artist
Sandy W.
11 days ago
Previous
Previous