About
Born in Adelaide, South Australia and grew up in Sydney.
Mainly self taught and attended art schools and courses all over Sydney such as the Julian Ashton Art School, National Art School and Art Est.
Completed my Diploma of Visual Arts with the Northbridge School of Visual Arts 2017.
Previously was working as an investment banker.
Most recent exhibition at the Other Art Fair presented by Saatchi (who selected the 100 artists - including me!)
Past exhibitions:
Hornsby Art Society 2017
Gallery 307, Northbridge Visual Arts School 2017
Cruelty Free Festival (selected exhibitor) 2016
Artwork compositions are inspired from the artists love of nature and wildlife. Importance of conservation is communicated through exploring nature's beauty and its hidden power that she admires. Elizabeth adopts a variation of the Japanese style of Shinto or animism. Application of stylistic design, textures and colour to create an emotional visual experience. Painting au premier coup (wet on wet) is her main painting style that allows the chemical elements of the paint to feature in the artwork. Elizabeth enjoys a blend of impressionism and realism for emotional aesthetics she wishes to convey in her artwork and provide ironic commentary on life.
The artist likes to provide a discovery of symbiotic relationships between wildlife and nature and mankind and commentary on their interconnectedness. Study of nature or photographs as well as drawing concepts in sketchbook help conceptualise ideas for her artwork. Learning and reading on art history and the art practice of impressionist and renaissance great artists provide inspiration for Elizabeth's studio based work
Please also follow my on artworks on Instagram/Twitter @Liz_Artworks for sharing my creative process.
Elizabeth also takes on art commissioned works , please contact me via facebook @lizartworks111 or my other social media pages.
My main website is www. lizlovellartworks.com
Feel free to send me any enquiries you may have as I am happy to supply more images if required.
Thanks for your interest.
Education
University of Sydney
University of New South Wales
Julian Ashton Art School (courses)
Art Est
Exhibitions
Upcoming exhibition "The Other Art Fair" SYDNEY . 23rd - 25th March 2018. Please note my ARTwork online is currently unavailable until after the fair.
Pass exhibitions:
Hornsby Art Society 2017
Northbridge School of Visual Arts, Gallery 307 Teachers and Student exhibition 2017
Northbridge Art Prize, Gallery 307 exhibition 2017
Cruelty Free Festival - Animal Art show 2017
Influences
Nature, Wildlife, my surrounds shape my subject matter. Textures and colours applied by the Greats such as impressionists Vincent Van Gogh, Claude Monet, Paul Signac, Manet and dutch masters are my inspiration. I am also interest in all kinds of art genres such as abstract, oriental (Shinto application) and pop. You will see these influences come through in my pieces as I build my body of artwork.
artist
Patricia G.
7 days ago
artist
Debra B.
7 days ago
artist
Donna W.
15 days ago
artist
Pauline J.
15 days ago
artist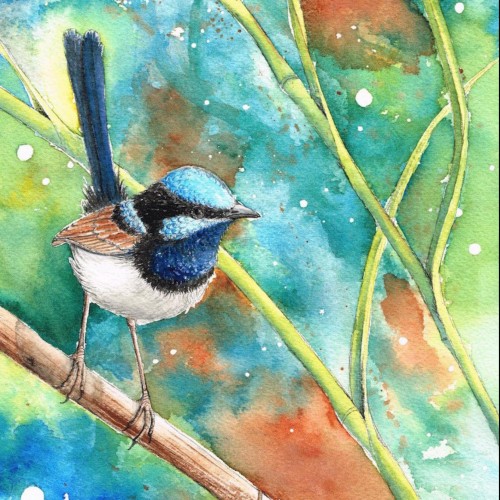 Rebecca P.
7 days ago
artist
Marnie
7 days ago
collector
David H.
15 days ago
collector
Anna A.
14 days ago
artist
Damon L.
25 days ago
artist
Brad B.
22 days ago
artist
HSIN L.
18 days ago
artist
Jacqueline B.
22 days ago
Previous
Previous