About
I am a self-taught artist' and started painting when I was in my mid-twenties. I used oils on canvas back then.
More recently I made the move to soft pastels when a friend asked me to paint her dog. Since then I work almost exclusively with pastels painting animals. Capturing the heart and soul of my subject is at the core of my inspiration to paint pet portraits' especially when a lot of my subjects are deceased and are very much loved by their owners.
In 2012 I was diagnosed with breast cancer. I used my painting as a way to cope with the effects of treatment, and published a book, "It is What it Is", which tells my story, and showcases the paintings I did throughout treatment. After I had completed my treatment, my husband and I moved to northern NSW to the beach. I fell in love with the beautiful coastline we have at our backdoor, and have painted some landscapes and seascapes of the area. These paintings are included in my second book, "Living The Dream", which follows telling of my experiences after treatment.
I have attended a number of artist workshops which have inspired me to experiment with different mediums and painting methods. I now prefer to use acrylics, but still resort to soft pastels for animal portraits as I feel the texture of the pastel suits animal fur.
My art is and has always been an extension of the serenity and peace I feel since moving out of the city.
Education
Bachelor of Science
Masters of Business Administration
Exhibitions
Orange Blossom Art Exhibition' 2012
Clarence Valley Art Exhibition, 2014 - 2017
Lennox Art Collective, 2017
LACA 8x8 Exhibition - People's Choice Award
Influences
Vince Bearcroft' UK
Jenni Kelly, AUS
Mark Waller, AUS
Jenni Kelly, AUS
artist
Julz R.
27 days ago
collector
Morgan L.
27 days ago
collector
Anna A.
about 1 month
artist
Patricia G.
about 1 month
artist
Donna W.
about 1 month
artist
Susannah P.
29 days ago
artist
Marnie
about 1 month
artist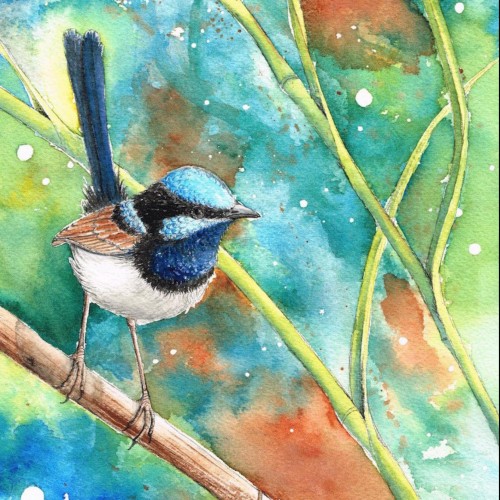 Rebecca P.
about 1 month
artist
HSIN L.
about 2 months
artist
Debra B.
about 1 month
artist
Pamela B.
27 days ago
artist
Pauline J.
about 1 month
Previous
Previous