About
Mariya Rovenko is a Melbourne-based artist, illustrator & graphic designer. She was born in the USSR where her love of art started from a very young age in the form of drawing and photography. Having officially skilled up in visual arts and graduating as a theatre costume designer, Mariya extended her interests to street art, fabric and graphic design.
After moving to Australia over 12 years ago Mariya has returned to her first love – expressing creativity on paper, which she does through a series of incredibly detailed and often ironic black and white studies.
Education
Odessa Theatrical Technical Art School. Bachelor, Theatrical and Decorative Art
Exhibitions
2 - 16 March 2017 - "ORIMONEY" - Solo Exhibition - Off The Kerb Gallery
March 2016 - "A Study of Darkness" - Backwoods Gallery
30 April – 21 May 2017 - "Strokes and Squiggles" - St Michael's Gallery
UPCOMING SHOWS:
June 2018 - Group Show at Fo Guang Yuan Gallery, Melbourne
Press
Weekend Notes: Orimoney Exhibition by Mariya Rovenko – Article by Postcards From
http://www.weekendnotes.com/orimoney-exhibition-mariya-rovenko/
artist
Jeanette G.
9 days ago
artist
Hayley K.
8 days ago
artist
Katherine A.
7 days ago
collector
Lorraine C.
18 hours ago
artist
Pip P.
2 days ago
artist
Christopher J.
12 days ago
collector
Tina K.
7 days ago
artist
Carolyn D.
4 days ago
artist
Sandy W.
11 days ago
artist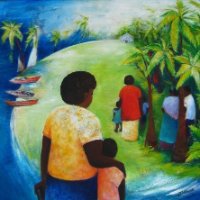 Glenise C.
9 days ago
collector
Carolyn R.
13 hours ago
artist
Laurie C.
3 days ago
Previous
Previous