About
Natalie Brown – Artist Bio
Natalie Brown, also known as 'Natty Be', has been making art since 1990 when she first started painting for herself. The creative process is one which is important to her way of life, and has been a consistent part of her evolution through her teenage years to adulthood, through all three modes of expression, in her art, music and writing. During those early years, her art depicted the angst that she felt within, and allowed her to express her emotions in ways that she was unable to do anywhere else. Her journey during the last 26 years has been one of healing and joy, where she came to a sense of peace in herself, able to recognise the importance of her contribution to the whole.
As Natalie's journey has unfolded, bringing greater understanding about the nature of human existence and the world around her, her art has evolved to reflect a higher consciousness perspective as she interacts with her world. Her recent works demonstrate her ability to draw out of herself the emotions that she wishes to convey in her artwork, which she hopes to inspire in the viewer - inspiration, healing and joy.
Natalie has been involved in group exhibitions throughout Brisbane and Northern New South Wales at various venues during 2006-2016. She recently held her first solo exhibition in January 2016, at the Upfront Club in Maleny, which she entitled 'Rising Tide' and held a combined fundraiser, raising money for refugee children in detention.
Education
Bachelor of Media and Communication (Submajor Creative and Professional Writing) - QUT
Diploma of Screenwriting - AFTRS
36cm (W) x 41cm (H)
Mixed Media
51cm (W) x 76cm (H)
Acrylic Paint
artist
Carolyn D.
5 days ago
collector
Tina K.
7 days ago
artist
Christopher J.
12 days ago
artist
Pip P.
3 days ago
artist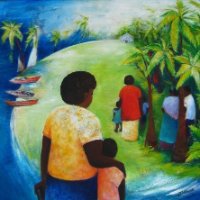 Glenise C.
9 days ago
collector
Lorraine C.
21 hours ago
artist
Sandy W.
11 days ago
artist
Hayley K.
8 days ago
artist
Laurie C.
3 days ago
collector
Carolyn R.
16 hours ago
artist
Katherine A.
7 days ago
artist
Jeanette G.
9 days ago
Previous
Previous