About
I am a Melbourne portrait artist, painter, illustrator, storyteller and occasional mermaid. I work from my home in the leafy and artistic suburb of Eltham. I find inspiration in good yarns and small things in the day-to-day, living by "Stories & Memories". A mother to two young daughters, I exhibit with local art group, Thou Art Mum, an inspiring and supportive network of visual artists who are mothers, as well as with Melbourne galleries.
I love faces and bodies! My portraits and figurative studies are mostly in acrylic paint or graphite. The range of artwork includes paintings, illustrations, prints and fan art, as well as commissioned pieces. Recurring themes in my work are shadows, reflections, tattoos, floral blooms, water, disco, the female body, childhood, colour, and Moorish and Art Deco pattern.
I also love what lies beneath the faces and bodies! My passion for reading stories about people began in childhood with a big bookshelf full of books. In my art I explore the human condition through empathy, love, emotion, nostalgia and memory. Time, popular culture, music and literature, cultural background, humour and wordplay are all important ingredients of my storytelling.
An advocate for women, I am constantly drawn to the themes of strength and vulnerability in femininity, identifying with "I'm every woman" through my work in a balance between realism and fantasy. An ambassador for Pink Hope, I am also a voice for the non-profit Australian breast and ovarian health organisation which empowers women and their families to take control of their hereditary health through prevention, education and support.
I love to connect with my enthusiasts and customers on social media! You can find me @pascalegarlingeart on Instagram, Facebook, Pinterest and LinkedIn if you would like to chit-chat about my art or personal story. Visit my website www.pascalegarlingeart.com to see more!
Top Categories
Education
2017
Holmesglen, Melbourne
New Enterprise Incentive Scheme (NEIS): New Small Business
2000 – 2001
Westminster Adult Education Service, London, U.K.
B.T.E.C. Professional Development Certificate in Interior Design
1996 – 2000
University of Exeter, Exeter, U.K.
B.A. French and Fine Art Combined Honours (Painting Major) (2:1)
1998 – 1999
Ecole Régionale des Beaux-Arts de Rennes, Brittany, France
One year foreign placement in French art school as integral part of Degree
1991 – 1996
Highworth Grammar School for Girls, Ashford, Kent, U.K.
1996 'A' Level Art and Design
1994 G.C.S.E Level Art and Design
Exhibitions
July 2017 Green With Envy, Volumes Café, Eltham
Inspired by the colour of living grasses and leaves, creatures both real and imaginary emit a green hue and the colour green becomes a symbol of life, hope and envy.
- Sink Back Into The Ocean 1
- Deeper and Down
May 2017 What Lies Beneath, Montsalvat Long Gallery, Eltham
A conceptual exhibition exploring the theme of layers.
- I Wear It Like A Tattoo
Artist's Floor Talk
December 2016 Meet Me @, The Vines Café, Diamond Creek
Cafés are a place to connect, refresh and rejuvenate. In a world saturated by social media, cafés have become the face of real social interaction.
- Black Coffee Rendezvous
October 2016 Spring @ Home, Interiors By Riveresque, Warrandyte
Spring is the most anticipated of seasons: a time of rejuvenation, regrowth and renewal.
- Bloom
April 2016 Scarlet Stories, Montsalvat Long Gallery, Eltham
An exploration of the colour red. Red is the most emotive of colours – a symbol throughout culture and history, a celebration of life and our oldest known pigment.
- Flamenco Flo
December 2015 A Taste of TAM, Bridges Restaurant Gallery, Hurstbridge
Thou Art Mum celebrates its 10th year anniversary with a vibrant and engaging 18th exhibition.
- The Wonder Of Flora
June 2015 Desaturate, The Vines Café Gallery, Diamond Creek

An expression in black and white.
- Girl With A Heart
May 2015 Up, Up and Away, Montsalvat Long Gallery, Eltham

An exploration of above the horizon.
- YSL Palm Trees in Majorelle Blue
- YSL Goldfish in Majorelle Blue
August 2013
Joined Thou Art Mum group and network
June - July 2000
University of Exeter, School of Arts & Design, Exeter, U.K.
"Exodus" final degree show
Press
Thou Art Mum "De-Saturate", Diamond Valley Leader, May 2015
Influences
Lucian Freud
Tai-Shan Schierenberg
Jenny Saville
Gustav Klimt
The Pre-Raphaelites
Moorish and Art Deco pattern
artist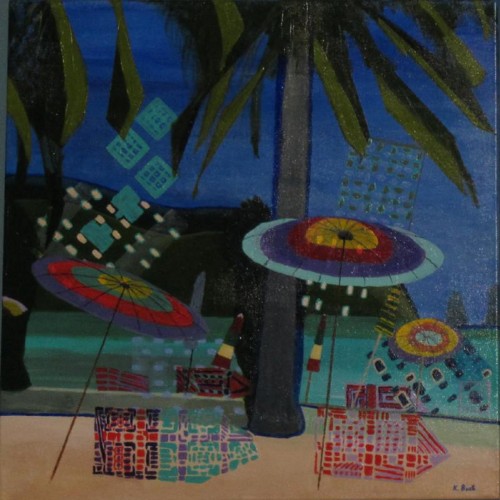 Kathy B.
10 days ago
artist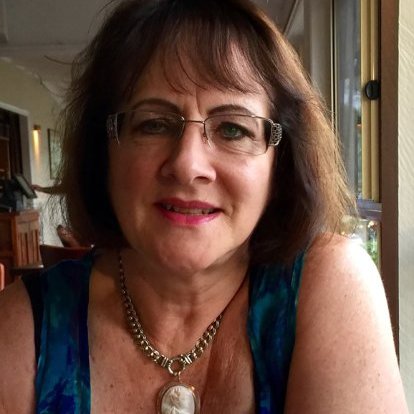 Gayle R.
11 days ago
artist
Julie S.
10 days ago
artist
Christine S.
8 days ago
collector
Andrea D.
6 days ago
collector
Kath P.
4 days ago
artist
Natasha J.
7 days ago
artist
Daniele L.
9 days ago
artist
Margaret (.
6 days ago
artist
Tim G.
10 days ago
artist
Tracey B.
6 days ago
collector
Rebecca F.
7 days ago
Previous
Previous