About
Since my earliest memories creating and viewing visual art has excited me. After nearly two decades of painting my intuition is my guide and I rarely set out with a specific subject in mind. Drawing inspiration from natural elements, particularly my local surroundings of the southern Fleurieu Peninsula, I create a canvas full of colours and textures and wait for the imagery to reveal itself. While some subjects expose themselves immediately, nestled in the colour and texture, at other times I watch the canvas for days, waiting for the imagery to unfold. The process is never the same.
My recent works are acrylics, which I love due to their fluidity in creating layers of vibrant colour. Created with a process I call "Flowfusion", the technique was inspired from the organic nature of liquid paint and the fluid look created by different colours running together. I also experiment with the pouring of paints onto canvas, manipulating it with a variety of methods, including gravity, to create a beautiful marbling effect and other unique finishes.
In my work I am inspired by life and movement, everything I see and the emotions and energy I experience. Conveyed through my abstract expressionist style, I focus on allowing the paint to lead me to face the unknown. Through an explosion of colours and emotion, my work showcases the dynamics of life through the movement of the abstract form and her rich palette.
Education
Patrycja obtained a Master's Degree in Graphic Design and Honours in visual arts at the Academy of Fine Arts in Wroclaw.
Exhibitions
2018 - Coffee Factory Cafe, Port Noarlunga
2018 - Terra Cafe, Willunga
2018 - Doc Adams Wines, McLaren Vale
2017 – Fluid Motions, Chapel Hill, McLaren Vale
2017 – SURF Exhibition, Arts Centre, Port Noarlunga 2016 – SALA 2016 " Fur and Feathers" - Red Poles, McLaren Vale
2016 – SALA 2016 " In The Flow" The Arts Centre, Port Noarlunga
2015 – Wyld Words Bookstore, Port Noarlunga
2015 – Victor Harbor Rotary Art Show
2014 – Adelaide Fringe Waymouth Street Party, Bluethumb Gallery
2011 – SA Health Building, Adelaide, Art Logic Gallery 2007 – Individual diploma art exhibition due to Polish-Japanese Week' Town Hall' City Museum Wroclaw 2006 – Individual painting exhibition Stamps & Bubbles' La Luz Cafe' Wroclaw' Poland 2006 – Students' and educators' design exhibition (Interior Architecture and Design Faculty) due to Academy of Fine Arts 60th Anniversary' Museum of Architecture' Wroclaw' Poland 2003 – Kintolai Gallery' Hindley Street' Adelaide 2003 – Manoli's Mezes Mediterranean Cafe' Port Noarlunga
Influences
Her great inspiration have been abstract expressionists' such as Jackson Pollock, Sam Francis and Wassily Kandinsky.
"My creativity resembles a growing tree of a film about life in general. It has many single branches but it leads in one particular direction' searching for new means of expression and new values. Artistic picture of my feelings and experiences transformed by my consciousness' giving different synthetic form - abstract dimension".
artist
Patricia G.
2 days ago
artist
Pauline J.
10 days ago
collector
David H.
10 days ago
artist
Debra B.
2 days ago
artist
Damon L.
20 days ago
artist
Donna W.
11 days ago
collector
Anna A.
9 days ago
artist
HSIN L.
13 days ago
artist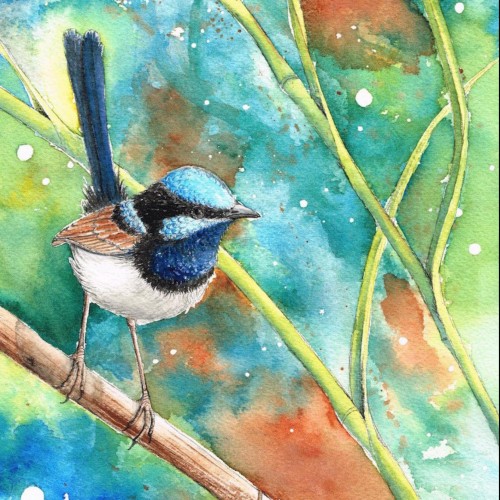 Rebecca P.
2 days ago
artist
Marnie
2 days ago
artist
Brad B.
17 days ago
artist
Jacqueline B.
17 days ago
Previous
Previous