About
THANK YOU SO MUCH FOR TAKING THE TIME TO LOOK, TO READ, TO SEE...I write and play and sing music. Here's the link if you should wish to listen:https://www.pauldouglasrobertson.com/musicianMy work is about passion. I take the skills that I have carved from the hot layers of my ignorance. A life-time's learning. An uncompromising discipline of drawing and painting and seeing.My hands are full of potential, swarming with latency. All that I have learned… All the thousands upon thousands of hours, the mass that throbs and groans a vast living library burned into my touch.All these pieces… they creak in the bones of my hands and hum in the tips of my stained, callused fingers.I take these things and I hold them and I am almost ready – almost – just one more, just another – tiny – step and I breathe deep and I face the fear and I show it my will and I smash it with what I have done and the terror I have beaten. The pain that I have painted through. The searing violence of living with a passion, a wound, a yearning like mine.Like yours.I reach into my ribs.I gently take the measure of my empathy. I cup my fingers around the blazing will, the warmth of living blood and the shocking, violently raw pain that make up the words and world that is my heart.I take my skill. I take my memory (shot through with gaping empty years blank and gone without a sound.) I take all of these things in my hands.And I FORCE THEM ONTO THE CANVAS.Never, ever believe that you do not know what it is that you see when you look at artwork. Never. Emerson said "Trust thyself, every heart vibrates to that iron string."If it moves you. If you can feel it, empathize, catch your breath in your throat – if you can see what it has cost me to make what is before you. Make it yours. Place it within your kitchen, your dining room. Your living room. Your bedroom. The beauty that I have tried so hard so hard so desperately hard to show to make to will into existence.Because that's what I want.I want you to know and to feel. To share. To be reminded with each look that you are passionate. Vulnerable. Beautiful And strong. PAUL'S ART CAREER:I've won *NINETEEN AWARDS* in the real not-on-line world, one of them international and including the WA Premier's Award from Geoff Gallup. He also opened my biggest exhibition in 2004, when he was Premier of West Australia.I have a BA in fine arts, but learned to paint anyway.I've sold hundreds of paintings, including to the UK and a few to the USA. I was invited to exhibit at he SOHO ART GALLERY in NEW YORK, but I was too ill. Ah well.i have also written the most awesome fantasy book ever. Thank you so much for taking the time to look at my work. - Paul.
Education
Ba, Fine Art. Curtin University.
Exhibitions
10! will fill them in later (most recently at the moores building in Fremantle, Western Australia.)
Press
My work and stuff about it has appeared in the Sunday Times, the West Australian (both taking up 3/4 of a page) and 15 different local pages. I've also been on TV interviewed twice at my exhibitions.
Influences
Carravagio. Repin. Pearl Jam. Radiohead. David Hamilton. Um. Me?
artist
Laurie C.
4 days ago
artist
Christopher J.
13 days ago
collector
Tina K.
8 days ago
artist
Pip P.
4 days ago
artist
Carolyn D.
6 days ago
artist
Sandy W.
12 days ago
artist
Jeanette G.
10 days ago
artist
Hayley K.
9 days ago
artist
Katherine A.
8 days ago
collector
Lorraine C.
2 days ago
collector
Carolyn R.
2 days ago
artist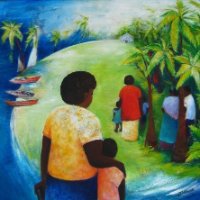 Glenise C.
10 days ago
Previous
Previous