About
I have the luxury of a backyard studio where I can happily spend hours painting portraits, serious or slightly quirky, birds and flowers or splashing around colour for those fun abstracts.
My paintings will often now have other dimensions whether it be gold or silver leaf other times it might be collage or old pieces of doilies these bits just sometimes convey more depth or a tactile feel to the work. I enjoy the fact that I can one day be painting in oils and the next day be collaging with acrylics and inks the experimentation of art and the process of "lets see what happens", is incredibly exciting.
Finally I have to add I am exceedingly lucky to be married to a very supportive man who encourages me endlessly.
Education
2017 present weekly Travel sketching class with Erin Hill at the Rocks
2017 March - Weekend workshop with Tanya Wursig
2016 November -Barossa Art Residency
2016 August- acrylics and Yupo Kerry Bruce
2016 September- I day collage workshop Kerry Bruce
2016 July- Abstract Nudes Kerry Bruce Mt Kembla
2016 June- Attended French Art School in Paris and the Limousin region studying Impressionists paintings at Gueret Museum, and other smaller collections in the Limousin region, as well as major collections in Paris at the Musee D'Orsay and L'Orangerie. The visit to France opened me to other opportunities such as researching inspiring primary reference for my paintings from the parks and gardens, particularly the Tuileries, the Parc de Bagatelle and Monet's garden, for my floral studies.
2015 to present mentorship of Sth Aust artist Jacqueline Coates
Exhibitions
March 2017 Ardency Aroona Art Exhibition "Life in Full Colour"
Influences
Many and varied, I am always looking in galleries for new artists and I am an avid follower on Instagram and Pinterest of many artists constantly watching to see how styles change and what influences others. I love nature and the ocean but strangely don't paint it living near it and hearing it is calming enough. I look to lots of different things for inspiration, shapes and shadows are sometimes where the ideas start or often obscure pictures in magazines for example the background of a photoshoot for an ad might have a strange tree or person doing something unusual in it.
artist
Julz R.
27 days ago
artist
Marnie
about 1 month
artist
Susannah P.
29 days ago
artist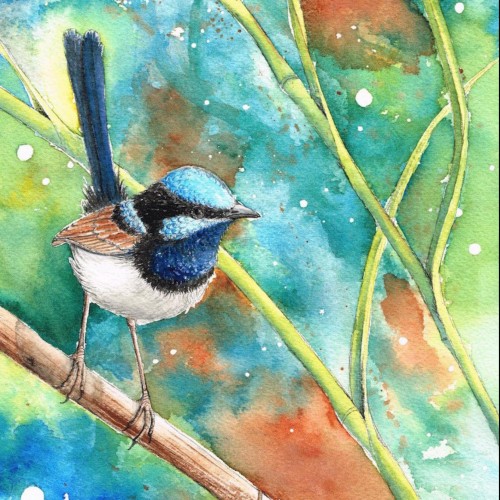 Rebecca P.
about 1 month
collector
Morgan L.
27 days ago
artist
Pamela B.
27 days ago
collector
Anna A.
about 1 month
artist
HSIN L.
about 2 months
artist
Debra B.
about 1 month
artist
Pauline J.
about 1 month
artist
Patricia G.
about 1 month
artist
Donna W.
about 1 month
Previous
Previous