About
Ruby Purple is an abstract painter & wearable art creator based in Brisbane. Conceptually, her art practice interprets the 'Preservation of our Environment' where she explores the elemental and emotional impacts to humanity and our natural world. She is confident, consistent and a principled professional who works to stimulate emotion and discussion in her creations which are abstract interpretations of the real.
Ruby Purple exhibits and is featured in publications locally, nationally and internationally. She is primarily a self-taught artist with studies in Graphic Design and Interior Decorating. Ruby has been a finalist in the Lethbridge 10 000, Rotary Art Spectacular, Contemporary Art Awards and the Brisbane Art Prize along with selection as one of the Top 60 Masters of Contemporary Art held in France.
She extends her creativity by offering wearable art where she designs bespoke pieces and Vegan-friendly scarves made of fabrics displaying her transposed artworks. She also provides a licensing service allowing designers the use of her artwork images.
Ruby Purple has been creating her unique abstract works for art collectors, designers, architects and artists since 2009, with her creations being held in private collections Locally, Nationally and Internationally.
Top Categories
Education
2018 – Technology in Visual Arts – FAA
2018 – Dry Point with Sandra Pearce
2018 – How to write and talk about your art
2018 - Writing and Talking about your Art
2017 - Growing Your Business
2016 – Tax Essentials for Small Business ATO, Tax & Money matters & Copyright for Artists, Artist Talks
2015 – Professional Development for Artists
2011 – 2015 Volunteer Gallery Assistant
2011 – SAI Global – Auditing Quality Management Systems ISO9001
2009 – 2012 Private Art Tuition
2005 – Griffith University –Graduate Certificate Injury Management & Counselling
2002 – Design College Australia – Graphic Design/Visual Communication
1998 – Certificate in Interior Decorating
Exhibitions
Aspirant Collection - Aspire Gallery Paddington June 2018
Finalist – COSSAG 'I Thirst' Art Prize & exhibition 2018
Finalist – Petite Pieces – Aspire Gallery Paddington 2018
Finalist - Contemporary Art Awards 2018
Finalist - 'All Are One' COSSAG Non-acquisitive Art Prize & Winter Exhibition 2017
Finalist - online showcase - Lethbridge Gallery, Paddington June 2017
Finalist - Rotary Art Spectacular, Brisbane May 2017
Contemporary Art Awards, Australia January - February 2017
Brunswick Street Gallery, Fitzroy Vic December 2016 - January 2017
Graydon Gallery - New Farm November 2016
Brisbane Art Prize – Judith Wright Centre – Fortitude Valley Brisbane August 2016
Redcliffe Cultural Centre Redcliffe July – August 2016
Cathedral of St Stephens - COSSAG - Brisbane CBD & Catholic University Banyo 2016
Art Tour International Top 60 Masters of Contemporary Art Montagnac France 2016
State Library - Southbank, Brisbane 'Peace & Quiet' November 2015 to 20 February 2016
Further exhibition details can be found on Ruby Purple Creations website.
Press
Curtin Springs Paper Northern Territory - Feature Artist
Paper Bou – Feature Artist
Artists for a Green Planet - international publication 2017
Sandgate Guide - August 2017
Artist Palette – Feature Artist Issue 148 July - August 2016
Art Tour International ' Top 60 Masters of Contemporary Art' May 2016
Art Tour International 'Best of Contemporary Art Winter Issue 2015'
Artist Palette December 2015
Sandgate Guide September 2015
Influences
Ben Quilty, Margaret Olley, Georgia O'Keeffe, Pablo Picasso, Matisse.
collector
Andrea D.
8 days ago
artist
Natasha J.
8 days ago
artist
Julie S.
12 days ago
artist
Stuart E.
22 hours ago
collector
Rebecca F.
9 days ago
artist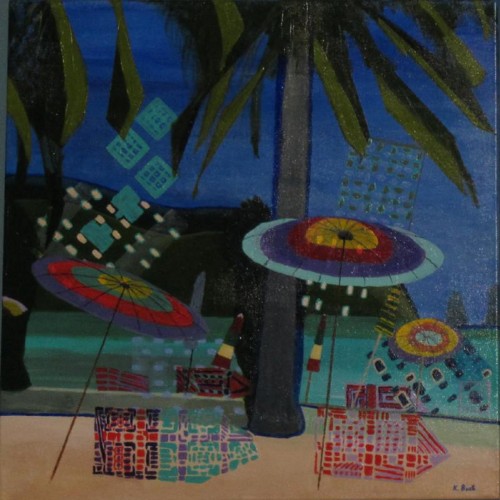 Kathy B.
11 days ago
artist
Tim G.
11 days ago
collector
Kath P.
6 days ago
artist
Tracey B.
8 days ago
artist
Christine S.
10 days ago
artist
Daniele L.
10 days ago
artist
Margaret (.
7 days ago
Previous
Previous