About
Definitely not going to wank on about how great or how many awards I have... EXCEPT... (now you've asked) for an art award I got in Grade 2 - colouring-in within the lines... proud moment, won a pack of felt pens in a tin box with a Gauguin print on the outside & haven't looked back... Still haven't worked out how to replicate that work in felt pens, the man was a genius.
OK a little more about moi... I paint & create down in the Driftwood Palace, a small studio built by someone I love (mostly) entirely of treasures found Beachcombing, and repurposed trash... I love it there, and once a bar fridge goes in I may never leave again ;) Anyhow, pleased I got the chance to intro myself & say Hola, and if you think you'd like to, check out my work, like anytime, you don't even need to scrap off your Doc Martin's on the 'Welcome' mat, I want to show you stuff, I have some canvases waiting on being rehomed, so yeah if you what to adopt something(?) these pieces are totally house-trained & ready to go ;)
OK, I realise I should be more serious, but life is to short to be dull & boring, art always need a touch (don't we all) of fun, fantasy, or magic ;) thanks for dropping by!
UPDATE
****I have just been accepted to have my FIRST (duo) exhibition, June 2018**** WOOHOO Now where'd I put my paintbrush? Keep you posted xox
Education
Yep!
Heaps... well a fair bit more than anticipated when I first walked though those prison-like school gates, education was a love/hate relationship, totally interfered with lunch time, and really, not being allowed to take food into libraries (what Spanish Inquisitor came up with that torture?)... think the nuns may have wanted me to achieve more at school, bless 'em, then off to art college... you know what's good about art college(?)...
Lunch ;)
Exhibitions
Not really an exhibitor, nor a voyeur, but yes, snuck into a gallery in Paddington & my painting was sold (before it hung), so ticked that babe off my 'must-do' list... Now working on birthing new canvases for a gallery exhibition midyear... great opportunity to exhibit with a fellow artist/friend but frankly, yes a little overwhelming too!
Press
Not Press so much... Few squats, sit-ups, mostly treadmill.
Influences
Many, seriously, from the art that hangs in the Lourve to what is spray-painted on city walls, influences encompases countless of artists, from the sculptor who painted the ceiling of the Sistine Chapel to the tattooist who arts walking canvases... so many, but never too much... art & artists.
20.3cm (W) x 25.4cm (H)
Mixed Media
20cm (W) x 25cm (H)
Acrylic Paint
artist
HSIN L.
about 2 months
artist
Julz R.
26 days ago
artist
Susannah P.
29 days ago
collector
Anna A.
about 1 month
artist
Marnie
about 1 month
artist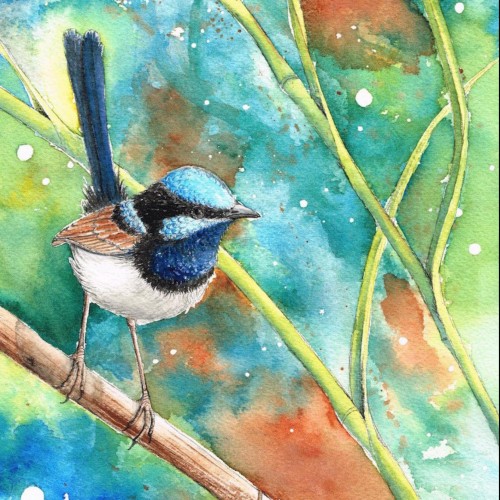 Rebecca P.
about 1 month
artist
Debra B.
about 1 month
artist
Pauline J.
about 1 month
artist
Donna W.
about 1 month
collector
Morgan L.
26 days ago
artist
Pamela B.
27 days ago
artist
Patricia G.
about 1 month
Previous
Previous