By
Tracey Miller
Bowral, Southern Highlands, NSW, Australia, Australia
DESCRIPTION
These are the colours of summer. Blue skies, green growth and cool waters.
artist
Bronwyn M.
3 days ago
"Easy to use website and it's the only website I've managed to sell anything from."
artist
Sandra M.
7 days ago
"You seem to get results in selling ."
artist
Connie K.
3 days ago
"Very professional"
artist
Lesley T.
2 days ago
"Bluethumb has such an enormously wide range of art... a wide range of genres and a wide range of prices... and they have a Jack Russell office dog "
artist
scott j.
7 days ago
"good website , easy to use , good customer service and response times, good courier arrangements"
collector
Gail G.
3 days ago
" Large variety of art. Easy website to use"
collector
Louise O.
3 days ago
"Easy access to art from many different artists (especially for someone like me who knows nothing about art but likes to have art hanging on the walls). Easy to purchase art i.e. the process is easy. Able to view other pieces by an artist. Can commission a piece from an artist."
collector
Sandra P.
7 days ago
"I have purchased 4 paintings to date and I am extremely happy with the paintings and the whole Customer Service Team at Bluethumb offer excellent service throughout the entire process."
artist
Sarah M.
5 days ago
"Enormous variety of quality artwork to choose from. Easy site to navigate!"
artist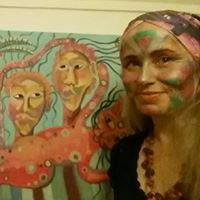 Bronny D.
1 day ago
"I do recommend bluethumb."
collector
Louise B.
7 days ago
"I love it! The art is great and easy to buy. I have bought a number of pieces and have been very happy with them. I have already told numerous people."
artist
David C.
1 day ago
"Because it is a simple process, no upfront fees, and Bluethumb do all the work. However the commission does hurt, especially with freight of larger pieces."
Previous
Previous
FREE SHIPPING & INSURANCE
Bluethumb takes care of everything from artist's studio to your door, so your precious artwork arrives quickly and safely. We'll notify you via email of the sale, and will include your tracking number once picked up by our couriers.
On average it takes 10 days for a painting to arrive. Once you input your post code, we'll give you a more accurate estimated delivery time for your artwork.
We also have 7 day free returns ... Happy collecting.
7 DAY FREE RETURNS
You have a full week (7 days) from the time you receive an artwork to decide if you would like to return it.
No questions, no hassles and Bluethumb will pay for the cost to return your purchase to the seller up to a maximum of $100.
Embed Artwork Image
Add this artwork to your site by copying the code below