About
Victoria FitzGerald is an oil abstract artist exploring textural bases that start the painting process. She considers the use of movement and colour depth from deep dark hues to the careful highlights arranged to create visually interesting and unique artworks.
Victoria attended Gordon Tafe in Geelong to start at Diploma and Degree in Fine Art; the high costs associated with the degree was the catalyst to change 'careers'. She has been painting since 2013 after a 5-year break and has been experimenting to find her style since then; starting with watercolours, moving to acrylic on paper and then into oil on canvas.
Though she has not appeared in any solo exhibitions she has shown work in multiple art shows such as Linden Postcard Show, Brunswick Street Gallery 10th Small Works show and Werribee Rotary Art show.
I have always felt drawn to the relationship between light and dark; the idea that the eyes can be calmed or excited by the placement of the tones and highlights excites me and is what I am trying to study and portray. Dark colours are fascinating to me as they feel like they have more complexity to be interpreted.
I try and create a sense of movement and depth through the textures and sweeping brushstrokes. A textured base is a starting point to then develop tones and hues; dark colours are started first and then areas of highlights are incorporated to create a blended and pleasing end painting.
All my works are abstract with no recognizable subject; their names come from either what the work feels like or a name is decided on beforehand to guide the colours and movement.
Top Categories
Exhibitions
Linden Postcard Show - Domain House 2017
Small works 10th Anniversary - Brunswick Street Gallery 2016
Linden Postcard Show - Linden New Arts 2015
Werribee Rotary Art Show - Wyndham Civic Centre 2015
Press
88 Cambridge Street, Collingwood
Commissioned Artworks for advertising campaign (5 in total)
http://www.88cambridgestreet.com.au
Influences
Layne Johnson (Contemporary American Artist)
J M W Turner
Joshua Reynolds
artist
Margaret (.
8 days ago
collector
Andrea D.
8 days ago
collector
Rebecca F.
9 days ago
artist
Natasha J.
8 days ago
artist
Julie S.
12 days ago
artist
Tracey B.
8 days ago
artist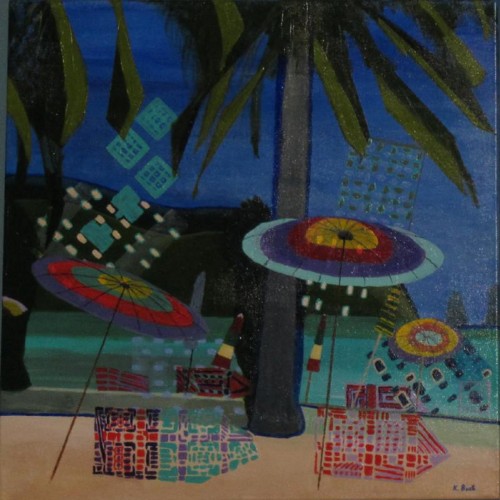 Kathy B.
12 days ago
artist
Tim G.
12 days ago
artist
Daniele L.
10 days ago
artist
Christine S.
10 days ago
artist
Stuart E.
1 day ago
collector
Kath P.
6 days ago
Previous
Previous